"Beyond the Stratosphere" - A gritty snapshot of the effects of HIV/AIDS
by Rob Howard
Associate Editor
"You have these movies and plays about HIV/AIDS, like Normal Heart. I wanted to tell the story from the African American perspective because African Americans are very heavily affected by the disease. I just wanted to do something a little different," says Oklahoma City playwright La'Charles Purvey.
Purvey's play, Beyond the Stratosphere, is a gritty snapshot of the effects of HIV and AIDS on a group where the topic of "the disease" is still considered taboo. The story introduces five black men from different walks of life who embody different aspects of a traditionally marginalized people trying to find meaning before they are consumed.
"The topic is still taboo. I believe that it is," says the playwright. "The stigma is not as deep as it was, but it is still there."
Beyond the Stratosphere opens December 15 at the Oklahoma City Theatre Company.
The main characters are all in a group that is for HIV positive men of color. The play takes place in 1992, when being infected with HIV was a death sentence.
Scotty is the facilitator and leader of the group. He holds everything together.
Demetrius is an aspiring gospel comedian. A virgin when he got married, he thought he had done everything right. Ends up that he got infected from his unfaithful wife.
Dunk, a "thug", got HIV from drugs. He thinks he shouldn't have gotten it because he's not gay.
A drag queen, Sunday Mourning, deals with a highly religious mother; she fears her mother won't keep her ashes when she dies, because she is afraid they will be infected.
Mixed Tape Boy sells tapes on the corner. He got HIV from his mother, who injected drugs in him to keep him quiet while servicing johns. Her name is January. She's not part of the support group, but serves as the narrator of the play. She introduces the audience to what was going on in 1992.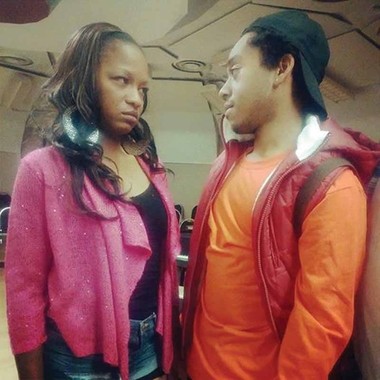 Penny, Scotty's girlfriend, is a social worker. "Scotty is insecure that she will leave him when he gets sick," says Purvey. "Penny is the only character in the show who is not HIV positive." He wanted to put her there "to see what does a person who is not HIV+ has to go through when a loved one has HIV."
Purvey's inspiration for the play was his gay uncle who died from HIV/AIDS in the early 90s. "I saw him one year, he was healthy and fine. The next time I saw him several years later he was very thin."
This is the first professional production of the play. It was first produced at OKC's Classen School of Advanced Studies, where Purvey was an adjunct teacher. A second production was at the Poteet Theatre, in OKC's St. Luke's UMC.
Purvey says he came up with the name of the play because he is interested in the stars. That interest is transferred to Mixed Tape Boy. "The interesting thing about Mixed Tape Boy, he's not your typical street kid. He's very interested in music and astronomy. He likes looking up at the stars as a sort of getaway. I like looking at images from space, just looking above us is beautiful. Beyond the Stratosphere is sort of going beyond the earth, sort of escaping.
"I want the audience to leave with a sense of hope. With everything going on in the world today, we need hope - that things won't always be bad, things will get better," says Purvey.
"The play lets us see people from different walks of life dealing with the same thing. It shows that we are more alike than different. It shows a sense of hope, getting together to battle this specific disease."
OKCTC's production plays December 15-18 and 29-30 at the OKC Civic Center's CitySpace Theatre. Tickets are $25, $20 for students and seniors, and are available at the Civic Center box office, by telephone at (405) 297-2264, and online at www.OKCCivicCenter.com.
Purvey says, "I want to encourage people to come out and support the show. One of my passions is not only African American theatre. I want people to come out and support something that is new and a little bit different."
Copyright 2016 The Gayly – December 7, 2016 @ 5 p.m.