"You gotta pucker up your lips, like this..."
Celebrity Attractions kicks off their 2017-2018 Broadway Season with the national Broadway tour of Disney's The Little Mermaid. This beloved fairy tale comes to life on stage at the Tulsa Performing Arts Center August 29 – September 3.
Audiences of all ages are sure to fall in love with this underwater spectacular. Disney's The Little Mermaid is produced by Pittsburgh CLO & Kansas City Starlight.
In a magical kingdom beneath the sea, the beautiful young mermaid, Ariel, longs to leave her ocean home to live in the world above. Based on one of Hans Christian Andersen's most beloved stories, with music by eight-time Academy Award winner Alan Menken, it's a hauntingly beautiful love story for the ages.
Come fall in love with the magic for the first time - or all over again with classics such as Under the Sea, Kiss the Girl, Part of Your World and more.
A veteran cast of Broadway's best will bring this timeless fairytale's most beloved characters to life on stage. The cast features Diana Huey as Ariel and Eric Kunze as Prince Eric.
It also includes Melvin Abston as Sebastian, Jennifer Allen as Ursula, Steve Blanchard as King Triton, Allen Fitzpatrick as Grimsby, Frederick Hagreen as Jetsam, Brandon Roach as Flotsam, Connor Russell as Flounder and Jamie Torcellini as Scuttle.
The cast is complete with a talented ensemble, including Kristine M. Bennet, Kristin Burch, Venny Carranza, Melissa Glasgow, Sheldon Henry, Bety Le, Michael McGurk, Amanda Minano, Becca Orts, Robbie Roby, James Shackelford, Brian Shaw, Dane Stokinger, Brenna Wagner and Brittany Zeinstra.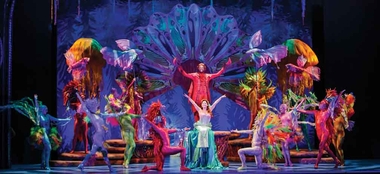 Presented by Celebrity Attractions, Disney's The Little Mermaid comes to the Tulsa Performing Arts Center for eight performances August 29 – September 3. The performance schedule is Tuesday, Wednesday and Thursday at 7:30 p.m., Friday at 8 p.m., Saturday at 2 p.m. and 8 p.m. and Sunday at 2 p.m. and 7 p.m. Tickets may be purchased by calling (918) 596-7111 or (800) 364-7111, in person at the Tulsa PAC Box Office, or online at MyTicketOffice.com.
Disney's The Little Mermaid is the sixth show option and kicks off Celebrity Attractions' 2017-2018 Broadway Season. For season tickets, call (918) 596-7109 or order online at www.CelebrityAttractions.com.
The best way to guarantee tickets to the 2018-2019 season presentation of Hamiltonis to purchase a season subscription for the 2017-2018 Broadway Season.
For more information, visit www.CelebrityAttractions.com.
Ticket buyers are reminded that for Celebrity Attractions' productions, the Tulsa PAC Ticket Office and Celebrity Attractions are the only official retail ticket outlets for all performances at the Tulsa Performing Arts Center. Celebrity Attractions is a Tulsa-based company nationally recognized as a leader in the Broadway industry and committed to the community they serve.
Copyright 2017 The Gayly – August 18, 2017 @ 9:20 a.m. CDT.