2 Utah rallies denounce white nationalist violence
Salt Lake City (AP) — More than a thousand people demonstrated in Salt Lake City on Monday night to denounce violence, hatred and the white supremacists that held a weekend rally in Charlottesville, Virginia that devolved into violence.
A boisterous crowd descended on Salt Lake City Hall to hear several state lawmakers, social justice activists and others call out hate groups and urge white people in particular to speak out against racism.
The rally followed a smaller event at the state Capitol, where elected officials called for unity.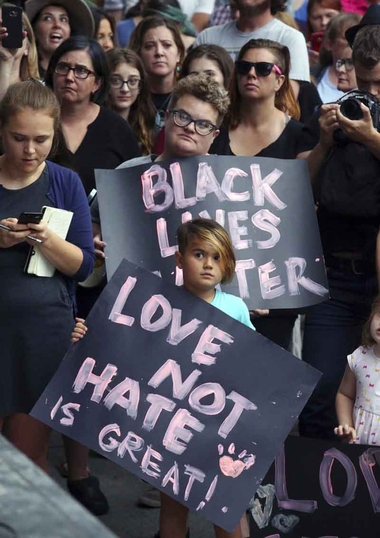 The gatherings were among many anti-racism and solidarity rallies held around the country after violence erupted in Virginia on Saturday. Neo-Nazis, Ku Klux Klan members and other white nationalists gathered in Charlottesville to oppose plans to remove a statue of slave-owning Confederate Gen. Robert E. Lee. Hundreds of counter protesters took to the streets, which led to clashes and fights. A car rammed into a peaceful crowd of counter protesters and killed 32-year-old Heather Heyer.
In Utah, public officials and activists called the attacks sickening and un-American.
U.S. Rep. Mia Love spoke to a group of about 200, including Democratic and Republican state officials, early Monday evening.
Love, the first black Republican woman elected to the U.S. House of Representatives, said told a story about her first job in which she gave swim lessons to children. One of her students told Love he liked her but that his parents didn't because she was black.
Love said it showed her that while hatred is taught, it can also be reversed.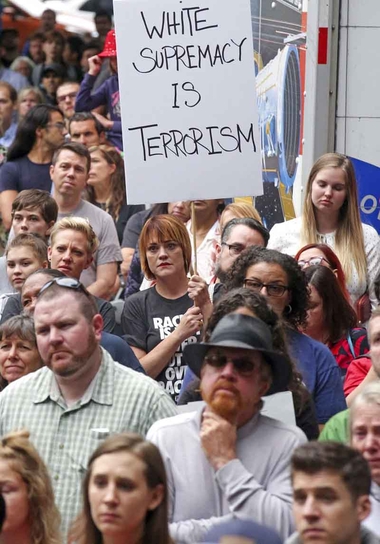 The crowd linked arms at one point to box out a man interrupting speakers and who was holding a sign defending white nationalists' free speech.
The man, who declined to give his name, said he felt the white nationalists were lawfully assembling and were attacked by liberal groups.
As the man interrupted him, Lt. Gov. Spencer Cox said love was the best way to combat hate, saying, "Let's love this gentleman behind me." Someone in the crowd responded, shouting, "I love you, sir!"
Speakers at the Capitol event urged unity and bipartisanship.
The larger, anti-racism rally at city hall dived right into politics, with speakers decrying fascism and racism and several saying they felt President Donald Trump had emboldened hate groups, comments that drew loud cheers and applause from the energetic crowd.
"Those of us who know that racism has always been present have felt this shift, perhaps a turning point," said Kathy Abarca, executive director of Racially Just Utah. "Trump has made white power groups and other hate groups feel legitimate."
"We must name this evil: This is domestic terrorism," Abarca said, to thundering applause and cheers.
The event, organized by the Utah League of Native American Voters, included speakers from Equality Utah, Utah Against Police Brutality and the Utah Women of Color Council.
Utah Attorney General Sean Reyes, a Republican who spoke at both events, was met with loud boos at the second rally. Reyes, an early and vocal supporter of Trump, decried racism but was at times drowned out by some urging him to leave the stage.
Several arguments broke out along the fringes of the demonstration.
At least one motorcycle rider who loudly revved his bike's engine during the speeches was later surrounded by a crowd, where some argued with the man about the government and racism. Another argument broke out among some in the crowd after someone shouted down an LGBTQ activist.
By Michelle L. Price. Copyright 2017 Associated Press. All rights reserved.
The Gayly – August 15, 2017 @ 11:20 a.m. CDT.