Answers in Genesis letter of intent, not a UCO contract
By Jordan Redman
Staff Writer
Yesterday, The Gayly brought you the story of a UCO student group's success in keeping anti-LGBT speaker off campus.
Questions arose as to whether the University of Central Oklahoma (UCO) broke a contractual agreement with Ken Ham by canceling his invitation to speak on campus.
Answers in Genesis produced what they are calling a contract. According to their website, "UCO has reneged on a contract it signed that allowed Ken to give a talk on March 5."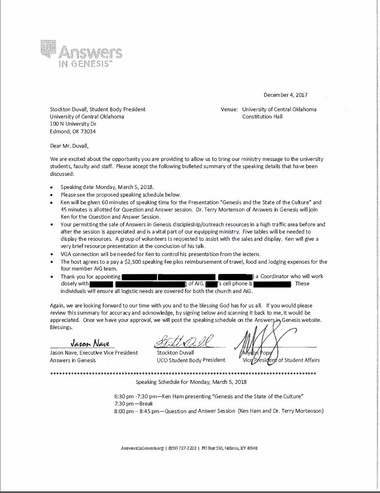 The Gayly spoke with Adrienne Nobles, Assistant Vice President for University Communications at UCO, who clarified the above letter is "considered to be a letter of intent...What would have been a formal contract if it moved forward."
To clarify, a letter of intent by definition is "a document containing a declaration of the intentions of the writer."
Also, a contract is "a written or spoken agreement, especially one concerning employment, sales, or tenancy, that is intended to be enforceable by law."
Stockton Duvall, UCO's student body president released a statement yesterday, "I want to be very clear on this, there have been members of our campus who have tried to bully me in making my decision [to cancel the event with Ken Ham]. While none of these examples involves any members of administration, there is definitely something that must be done to address this issue. I am not the first person to be personally attacked by a very vocal group on campus that has little tolerance for opposing viewpoints."
Lindsey Churchill, Associate Professor of History and Director, Women's Research Center and BGLTQ+ Student Center, said "I think the story here too is that Stockton made this decision to cancel and decided to blame a group he met with for 30 minutes for bullying instead of taking responsibility. He also chose to use this as a chance to bring division between the student government and women's and lgbt groups on campus. He made a promise to students from the Center when he was running that he would support women and the lgbt community. When they called him on it (which they had every right to), he charged bullying."
Ham is the president of Answers in Genesis. He is known for his anti-LGBT+ stance and, in 2016, he declared he was "taking the rainbow back."
The Gayly. February 9, 2018. 2:55 p.m. CST.