Anti-LGBT+ flyer stirs firestorm at Ohio university
An anti-LGBT+ flyer that was signed Fascist Solutions urged LGBT students at Cleveland State University (CSU) to commit suicide. The flyer was taken down as soon as officials were notified, although CSU officials appeared indifferent to its comment.
The initial response, from spokesman Will Dube, was that "the flier would still be up if the person had followed the proper procedure to post a notice," according to a Cleveland.com report.
"'According to the legal framework related to free speech it would have been allowed,' he said.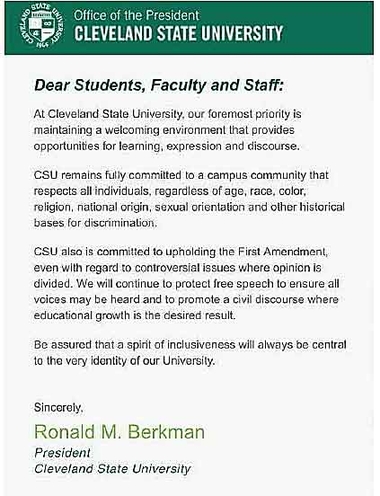 "President Ronald Berkman issued a statement to the campus community on Monday that came under fire because it didn't address the content of the flier but said CSU 'will continue to protect free speech to ensure all voices may be heard.'"
And that generated a firestorm of protest from students and faculty. It plunged CSU into the ongoing controversy on campuses across the country about freedom of speech, and what limits, if any, there are on it.
"Although different scholars view unprotected speech in different ways, there are basically nine categories," according to Newseum Institute's website. The categories are:
Obscenity
Fighting words
Defamation (including libel and slander)
Child pornography
Perjury
Blackmail
Incitement to imminent lawless action
True threats
Solicitations to commit crimes
There is little clarity on the matter.
"The controversy comes as universities across the country struggle to balance concerns over freedom of speech while ensuring campus safety following a violent white nationalist rally in Charlottesville, Virginia. Officials at Case Western Reserve University in Cleveland said Thursday that such flyers would be prohibited on their campus and should be considered a violent threat against students," according to Associated Press coverage of the CSU controversy.
Controversy over freedom of speech has grown over the past year. For more coverage, visit:
Is free speech fading at colleges? Some defenders think so
Arkansas Tech University expands free speech zones
Bay area braces for fight over free speech.
"Peter Sherman, a 23-year-old gay Cleveland State theater major, says he participated in the protests and town hall session because he believes the school should ban flyers urging students to kill themselves.
"'People are free to believe whatever they want, but free speech doesn't protect incitements to violence,' Sherman told The Associated Press on Friday. 'Asking people to commit suicide is an incitement to violence.'"
"Mike Brickner, policy director at the Ohio chapter of the American Civil Liberties Union, said the flyer should be considered protected speech because it didn't target specific individuals, but that it raised novel questions about the legality of speech that encourages suicide. Brickner said it echoed the controversial case of Michelle Carter, a Massachusetts woman convicted of involuntary manslaughter in August after she sent her boyfriend text messages urging him to kill himself," the AP continued.
CSU says it will create an advisory committee and offer more sensitivity training after officials were criticized for their response to the flyer.
"The school said Friday in a statement that its initial response had been 'inadequate' and left students and staff feeling 'unsafe, unheard and unvalued.''
"'Hate has no place in our community. It never will,' the statement said. 'We unwaveringly value our marginalized students, faculty and staff.'"
CSU's president later expressed his "personal outrage" over the message of the flyer, but doubled down on the freedom of speech argument. He added, "Let me make it clear that I am committed to promoting a safe and inclusive campus for all members of our community."
All of which leaves the question uncomfortably vague. The question of whether hate speech is protected by the First Amendment, or not, may be a question that can only finally be answered by a Supreme Court decision.
Copyright The Gayly - October 21, 2017 @ 3:30 p.m. CDT.