Apothecary 39: Not your average apothecary
by Rob Howard
Associate Editor
"Great atmosphere, friendly clientele. You always know somebody there. The bartenders are always friendly," patron Mark Singer said about Apothecary 39, a trendy LGBT+ bar on Oklahoma City's 39th Street Strip.
"We wanted to bring something a little bit different to what people thought of as a gay bar," says co-owner Craig Poos. "A little quieter atmosphere, a 'loungey' feeling. We don't have male dancers; we don't have the loud thumping music. It's just kind of a quieter place to come and have a conversation."
When Poos and his husband, George Siemens, opened Apothecary 39 three years ago, there was a twist. "We went non-smoking, which I didn't think was as revolutionary as it turned out to be; a non-smoking bar on the [OKC] Strip."
Poos seemed to be right on target with that. Every club-goer The Gayly spoke to on a recent night mentioned they like the non-smoking aspect of the bar.
The bar name, Apothecary 39, was decided on because the building built in the 20's, originally a family drug store, was an apothecary.
Customers at the bar were not only unanimous about it being non-smoking. Most of them cited the friendliness of the clientele and the talents and good-natured demeanor of bartender Phillip Biggs.
"Everyone is always so friendly. It's really a great place to come to. Every week, I come on Friday, and it's wonderful. The bartender is so great," said OKC resident Homer Hill.
His friend Bill, from Arkansas, agreed: "If you're looking for a friendly bar, AP39 is the place. It has great atmosphere, great people. Fun times, great appetizers on Friday, great bartender in Phillip. It's a great place to hang out."
That's by design, Poos acknowledged. "We want to be like you're hanging out at home, but with a bartender at your service. It's kind of a chill place to go."
Along with the quieter, friendly atmosphere, the bar has other characteristics that set it apart. "We have craft cocktails, a little bit higher end. We have our tea infused liquors right now, like a chai rum, berry gin, things like that. So, it's not just getting a beer and an 'a drink.'"
Customer Danny Hilton said, "It's a great bar. Wonderful bartender; he knows how to mix a mean martini. And friendly people."
Others cited the diversity among the customers. Al from OKC commented, "I like the diversity at AP39. There are men and women. Young and old. Everybody just likes to get together with their friends and have a good time."
LGBT+ activist Margaret Cox said she liked the bar when it was The Park. "But I love it now that it is smoke-free and has wing-back chairs and a great bartender, and wonderful people who come here. I love the Apothecary!"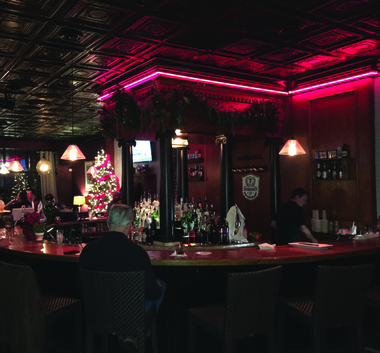 In addition to the friendly atmosphere, Apothecary 39 has monthly events. The Sisters of the Sacred Heartland host Sister Bingo the second Friday of each month, to raise money for a charity. Furry Fridays, with the Central Oklahoma Bears, is always the last Friday of the month.
Poos considers Apothecary 39 an alternative to other trendy bars in OKC. He sees the competition as bars in the up and coming neighborhoods like the Plaza, Midtown and Uptown 23rd. He wanted to bring "a trendier, kind of a hip place" to the Strip.
Located at 2125 NW 39th, Apothecary 39 is open Tuesday through Sunday.
The Gayly 1/18/2018 @ 1:49 p.m.