Belinda Carlisle comes to Kansas' Prairie Band Casino & Resort
Belinda Carlisle, Grammy-nominated artist first gained worldwide fame as the lead vocalist of the Go-Go's. They were the first all-female band who wrote their own music and played their own instruments to achieve a No. 1 album. They disbanded in 1985.
Carlisle went on to have a successful solo career with hits such as Mad About You, I Get Weak, Circle in the Sand, Leave a Light On and Heaven Is a Place on Earth among others. She has recorded seven albums during her career, the latest was Viola in 2007.
Her autobiography, Lips Unsealed, published in June 2010, was a New York Times Best Seller and received favorable reviews. On August 11, 2011, as a member of the Go-Go's, she received a star on the Hollywood Walk of Fame.
Carlisle has been a strong supporter of LGBT+ rights since her son came out to her at 14.
Carlisle is coming to Kansas' Prairie Band Casino & Resort to perform her classic hit songs in live action. Don't miss out on this exceptional performance from one of the greatest US female artists working and touring today.
Her show at Prairie Band Casino & Resort is Saturday, September 2 at 8 p.m. Tickets are $55 and $60.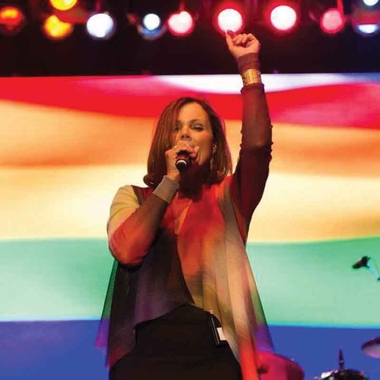 The Prairie Band Casino & Resort is located at Mayetta, Kansas, less than 90 miles West of Kansas City and only 22 miles West of Topeka. The resort offers fashionable rooms, a casino, four great restaurants and great performance events like Belinda Carlisle's concert.
Events coming up at the resort include a Murder Mystery Dinner & Show September 16 and 17. Join them for a dinner theater unlike anything you've experienced before. You will board their Pirate Adventure. Figure out the correct murderous villain and win up to $500 Prairie Cash!
Dinner and show will be Saturday, September 16 at 7 p.m. and Sunday, September 17 at 5 p.m. The ticket price of $60 includes dinner.
In October The Legends of Doo Wop & Pop come to the resort's Great Lakes Ballroom. The show stars Sonny Turner, former lead singer of The Platters; Shirley Alston Reeves, original lead singer of The Shirelles; and Rick Sheppard, singer of The Drifters. They will perform Platters' hits Only You, The Great Pretender and With This Ring.
The Shirelles' hits include Will You Still Love Me Tomorrow and Soldier Boy. Drifters' hits include On Broadway and Under the Boardwalk.
Their October 7 show is at 8 p.m. Tickets are $35 and $40.
All tickets are general admission (first-come, first-served seating). Tickets are available for pick-up at the Will Call desk two hours before show time and are available online at www.pbpgaming.tix.com.
All event attendees must be 21 years of age or older and have a Prairie Band Casino & Resort Players card to enter. The Prairie Band Players Club is free to join. Just stop by the Players Club with valid identification and sign up.
Copyright 2017 The Gayly – August 29, 2017 @ 1 p.m.