'Big Bang Theory' star Jim Parsons marries longtime partner
"Big Bang Theory" star Jim Parsons has married longtime partner Todd Spiewak.
"Parsons' publicist, Jillian Roscoe, has confirmed reports from People magazine and the New York Post that Parsons and Spiewak married Saturday night at the Rainbow Room restaurant in New York's Rockefeller Center," reported the Associated Press.
"Parsons posted a picture on Instagram on Monday of himself and Spiewak holding hands while walking down the aisle in tuxedos. He also posted a shot of the newlyweds heading out for their first dance," said the AP.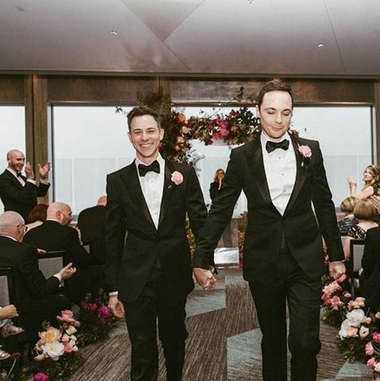 People magazine quoted Mayim Bialik, Parson's love interest as Amy Farrah-Fowler on The Big Bang Theory, as posting on her  Instagram page, ""What a wedding. Not a cell phone in sight. Everyone was so present which sounds pretentious but it was truly powerful for us all to just want to be there fully. Todd and @therealjimparsons, you are so loved."
Parsons said in an Instagram post last year that meeting Spiewak 14 years ago was the best thing that ever happened to him.
The Associated Press contributed to this story.
The Gayly – May 15, 2017 @ 1:35 p.m. – updated 2:15 p.m.