Bipartisan group of lawmakers moves to protect trans servicemembers
"Kicking out members of the United States Armed Services solely based on their gender identity is hateful, discriminatory, and on the wrong side of history," said Congresswoman Jackie Speier (D-CA) in a statement announcing the introduction of legislation to protect transgender service members.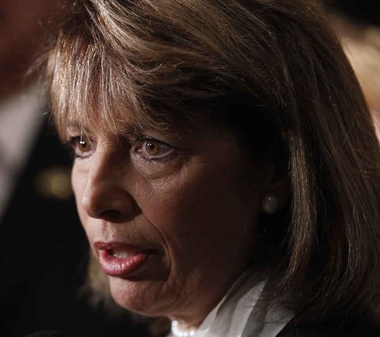 "News flash, Mr. President – thousands of transgender troops already serve our country with pride and dignity. Our military should be focused on recruiting and retaining the best troops, not on rejecting qualified service members on the basis of discrimination."
The legislation, H.R. 4041, is a bipartisan bill that would prevent the Department of Defense (DoD) from removing currently serving members of the Armed Forces based solely on their gender identity. In addition to Rep. Speier, a bipartisan group of members of Congress are sponsors of the bill, including Representatives Charlie Dent (R-PA), Susan Davis (D-CA), Ileana Ros-Lehtinen (R-FL), Adam Smith (D-WA) and Kyrsten Sinema (D-AZ).
The House bill is a companion to S. 1820, introduced last month by Senators Kirsten Gillibrand (D-NY), John McCain (R-AZ), Jack Reed (D-CT) and Susan Collins (R-ME).
For additional coverage of President Trump's ban on transgender military service, visit:
LGBT+ discrimination abounds in the Trump administration
Two senators support transgender military service
Trump administration response to transgender protections
Motions fly in lawsuits challenging transgender military ban.
"I stood proudly with the previous administration when we lifted the ban on 'Don't Ask, Don't Tell,'" said Rep. Davis. "Many of the arguments against transgender servicemembers are the same we have heard for gay servicemembers, and the same we heard for women before that. Transgender servicemembers have and are serving with honor, distinction, and courage.
"No evidence has been presented to warrant a ban, which is based solely on discrimination. Our servicemembers should be focused on the singular objective of protecting Americans. This ban will only serve as a disruptive distraction of that effort."
Specifically, the legislation would:
Express a sense of Congress that individuals who are qualified and can meet the standards to serve in the military should be eligible to serve;
Prohibit DoD from involuntarily separating, or denying the reenlistment or continuation in service in the Armed Forces of currently serving transgender service members solely on the basis of the servicemember's gender identity; and
Require Secretary Mattis to complete his review of accession of transgender individuals into the Armed Forces by the end of this year and report the results to Congress.
"Congress' intention with the repeal of Don't Ask Don't Tell was to allow our brave servicemembers to openly serve in our armed forces without fear of being discriminated against," said Rep. Ros-Lehtinen. "The decision by the Administration to not allow transgender individuals to serve in the military is a sad reminder of the dark chapters in our nation's history that should never be repeated.
"The courts have usually been forced to adjudicate what constitutes discrimination but once again Congress is saying: no more. Any patriot, as long as they are qualified to serve, should have the ability to, regardless of their sexual orientation or gender identity. These individuals are willing to sacrifice their lives for our freedom, a freedom that they should also be able to enjoy."
In a statement, Stephen Peters, Human Rights Campaign National Press Secretary and a Marine Corps veteran said, "Transgender troops serve this nation with distinction and honor, and President Trump's unpatriotic attack on their service is unconscionable.
"Qualified Americans who are willing to put their lives on the line for their fellow citizens should be allowed to do so — regardless of their gender identity. We thank Representatives Jackie Speier, Charlie Dent, Susan Davis, Ileana Ro-Lehtinen, Adam Smith, and Kyrsten Sinema for their leadership in defending transgender service members."
The full text of H.R. 4041 can be read here.
Copyright The Gayly – October 15, 2017 @ 12:45 p.m. CDT..