Brazilian transgender volleyball player hopes for Olympics
Bauru, Brazil — While playing in men's professional volleyball leagues in Europe, heavy-hitting Brazilian player Tiffany Abreu accumulated dozens of trophies.
But she says that among her most important accolades was being named most valuable player for a match with a countryside team Tuesday night as rain leaked from the roof in a half empty gymnasium.
"I had two of those (MVP) awards playing in the men's league. But this is a special one," Abreu told The Associated Press in an interview after the match. "I didn't even know until recently that I could play volleyball again."
Abreu, 33, is the first transgender athlete in Brazil's Superliga , the country's top women's volleyball tournament. She is sure to turn heads in Brazil, Latin America's most populous nation that has often struggled to curb violence against gay and transgender people.
To see stories about other transgender athletes, visit: Trans National Women's Cycling Team: Racing near you, Texas bill could deny transgender wrestler title defense and Transgender boy wins controversial girls state title.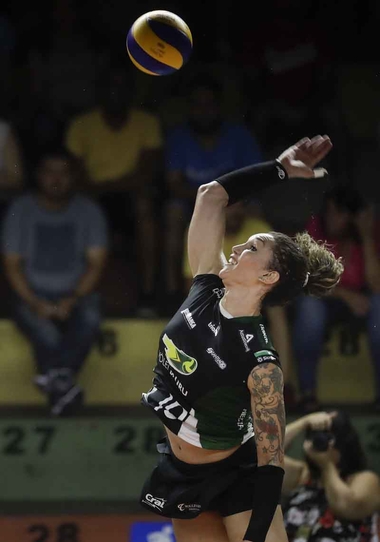 Abreu's first game as a starter Tuesday was a strong effort: she had 25 points for Volei Bauru in its 3-sets-to-1 victory over Pinheiros.
Abreu played in men's leagues in Brazil, Portugal, France, Indonesia, Spain, France, Holland and Belgium. In 2012, the volleyball player decided to stop her career and become a woman.
In Italy, She went through hormonal treatment to control the levels of testosterone in her blood stream, had sex reassignment surgery and changed all her previous identification to her new name.
Soon after, she was informed she could play again.
"I took every needed step after my agent said I could play women's volleyball. He knows the rules and said other transsexual athletes play in smaller leagues. So I decided to come back," she said. "I am obeying the rules, it is not as if I could just say I am a transsexual athlete and want to play."
After her transition process was finished, Abreu got authorization from the International Volleyball Federation in 2017 to play in women's teams.
In January 2016 the International Olympic Committee (IOC) decided that "transgender athletes should be allowed to compete in the Olympics and other international events without undergoing sex reassignment surgery."
"It is necessary to ensure insofar as possible that trans athletes are not excluded from the opportunity to participate in sporting competition," the IOC document says.
Earlier this year, Abreu played for a second division team in Italy. While she found support, she also said she felt pressure from heavy criticism, from fans and even teammates. She decided to return to central Brazil to be closer to her family, who live in the rural state of Goias.
Abreu trained for months at the 2,000-seat stadium in Bauru, a conservative stronghold about 200 miles (340 kilometers) northwest of Sao Paulo. Earlier this month, she signed a contract with Volei Bauru, a team that ended the first half of the season in 9th place among 12 competitors. The top eight make it to the playoffs next year.
Abreu hopes veteran Brazil coach Jose Roberto Guimaraes takes her to the Tokyo Olympics.
"I know he is watching all of us, I want to be prepared if that opportunity presents itself," she said.
Guimaraes told newspaper Estado de S.Paulo he doesn't see a reason why Abreu could not be on his team — provided she earns a spot.
"Tiffany is legally apt to play in the Superliga, I don't see any problem in calling her (to play for Brazil)," the three-time Olympic champion coach said.
She would likely receive resistance, from volleyball fans and players alike. Bauru Volei coach Fernando Bonatto believes Abreu is a brave woman who does not have special advantages.
Abreu says she shrugs off criticism and promises to keep working hard to develop as a female player.
"I say to other transgender athletes that they need to work hard because as long as their harmonization is correct, the rules are on their side," said Abreu. "They have the right to be happy, too."
By Mauricio Savarese, Associated Press. Copyright 2017 Associated Press. All rights reserved.
The Gayly – December 20, 2017 @ 5:25 p.m. CST.