Cardi B apologizes to the LGBT+ community
Cardi B has addressed the drama surrounding her recent collaboration with Rita Ora on the song Girls.
"We never try to cause harm or had bad intentions with the song," said the Bodak Yellow rapper in a tweet. 
Bebe Rexha and Charli XCX are also featured on the track, according to HuffpostQueer.
"I personally myself had experiences with other woman, shiieeett with a lot of woman!" she wrote on Twitter, adding that she thought "the song was a good song and i remember my experience."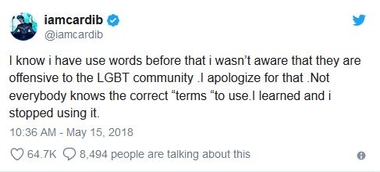 In another tweet, Cardi B apologized to the LGBT+ community for using words that she "wasn't aware" were offensive.
Cardi B has been in hot water with the LGBT+ community before. In January, she defended fiancé Offset's offensive "I cannot vibe with queers" lyric, which prompted the rapper to ask that the community "educate people."
"A lot of people are not aware about what's wrong or right in the LGBT+ community," she said at the time.
The Gayly. May 16, 2018. 4:56 p.m. CST.