Celebrate UCO's LGBTQIA+ faculty association
by Kara Kliewer
Staff Writer
"It has been awesome to be involved with a group that is so willing to go above and beyond to facilitate a safe and encouraging environment for our LGBTQ+ faculty, staff and students," says Jonathon Stephens, Director of Undergraduate Admissions at the University of Central Oklahoma (UCO).
The group Stephens is talking about is UCO's LGBTQIA+ Faculty and Staff Association.
"It has been great meeting so many faculty and staff I have never had the chance to meet before."
The University of Central Oklahoma's LGBTQIA+ Faculty & Staff Association was formed to celebrate and support the lives of the university's lesbian, gay, bisexual, transgender, queer/questioning, intersex and asexual+ faculty and staff community, as well as allies and students, according to Stephens.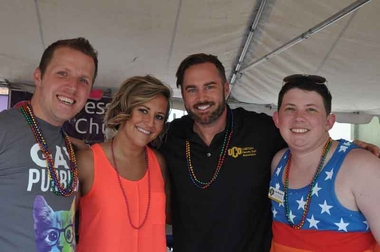 Nationwide, LGBT+ groups can commonly be found for students on college campuses. However, groups that provide the same community for university LGBT+ faculty and staff can be less visible. By establishing camaraderie among LGBT+ faculty, UCO's faculty and staff group is trying to change this.
"Our organization has been active within the UCO community and has attended several events on campus," Stephens notes. "I believe by being visible we are fostering a welcoming environment for our faculty and staff members who may not have been comfortable sharing their gender identity or sexuality with others."
Established approximately one year ago, the group now has 50 members.
"We hold general executive meetings once a month. We also have several sub-committees that meet on an ad-hoc basis," Stephens states.
Beyond meetings, the group is instrumental in bringing positive changes to UCO's campus.
"Currently we are hoping to expand the number of gender inclusive restrooms on campus as well as advocate that with new construction on campus, gender inclusive restrooms are considered," says Stephens.
"We are also in the early stages of creating an LGBTQ+ student success initiative that will serve our LGBTQ+ student population through mentorship and support."
Additionally, the group provides a UCO student endowment scholarship for LGBTQ+ students and allies. To support the scholarship, the group will be hosting a fundraising event at the UCO Chesapeake Central Boathouse on the Oklahoma River.
The event will be Saturday November 18 from 6-9 p.m.
"This is a public event and everyone is welcome. There is no entry fee but donations are welcomed as we are attempting to raise money for LGBTQIA+ student scholarships," Stephens exclaims. "This event will be a celebration of our year as a group and will serve as a fundraising event to garner support."
Ultimately, to its members, the group has not only been an agent of change on campus, but a welcoming home to the LGBT+ faculty and staff of UCO.
"It has been a great way to meet faculty and staff that identify within the LGBTQIA+ umbrella as well as allies," says Stephens. "There have been many new friendships that have been formed both at work and outside of work."
Copyright The Gayly – October 27, 2017 @ 7:10 a.m. CDT.