Cruise line life: An unconventional adventure
by Victoria Backle
Staff Writer
There are few jobs that allow its employees to travel the world and get paid to do it. Working on a cruise ship is one of those opportunities.
Haley Brown is a twenty-seven year old born and raised in Wilson, Oklahoma. Growing up in small-town, Bible-belt America she knew from a young age that she needed to get out of the grip of suburban life.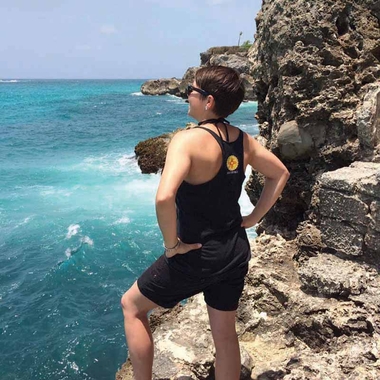 "I've long known I wanted to escape Oklahoma in search of a more unconventional adventurous life; to see more of the world and savor cultural exchanges," said Brown. "It has never been enough for me to let myself get comfortable or settle; I always challenge myself to enrich my experience of this adventure we call life."
Brown has been working aboard Royal Caribbean cruise ships as a Youth Staff for almost a year. Being an avid traveler, she was searching for opportunities to broaden her international horizons. After an extensive interview process, medical exams and minimizing her entire life she was offered a job on the sea.
Brown notes that "ship life", as the crew calls it, is not always glamorous. Hours are long, the crew works seven days a week for the duration of their contract (which is usually five to six months) and she shares a six-foot-wide bathroom and bedroom with another crewmember.
However difficult the long days can be on the ship, Brown is well aware that she is living out an adventure some could only dream of.
"On the best days, I get a few hours off to adventure and explore in whatever country I've woken up in that day," Brown continued. "The best part? The people I get to share the entire experience with. Every day of my life, I'm surrounded by people from every country, every walk of life. I've always craved this type of diversity and it amazes me more every day. Ship life is so addicting, so welcoming."
Brown calls herself an "out-going introvert" which, admittedly, can make life on a ship stressful at times. She finds herself at the bow, gazing at the stars in order to ground herself and find peace and quiet.
"I swear you can see the contours and curves of the earth from that view," Brown recalls.
Brown has been an active community member since she was a girl, spending much of her time helping and teaching others. Aside from her passion of travel she is an activist for LGBTQ equality as well as a nature-junkie.
Brown identifies as a gender queer, androgynous pansexual and has often felt the burden of societal boxes, categories and pressure.
"It's not that uncommon for me to feel a little out of place or sense the tension in a room out in the 'real world'," she said. "But on ships, I've never felt anything but respect and acceptance."
The future is uncertain for Brown, which seems to be the way she likes it. As her life unfolds, she finds herself in new chapters, note-worthy adventures and with a bundle of challenges. She has plans in the future to hike the Appalachian Trail, live abroad and teach English.
If reading her story makes you want to hop on the nearest ship and disappear – join the club!
"That's the beauty of living as a vagabond, of living unconventionally, of challenging social expectations, of always searching for more knowledge and experience," Brown concludes. "You never quite know what's next, but it's always an adventure."
Copyright 2017 The Gayly – March 19, 2017 @ 12:55 p.m.