Demonstrators exchange words with Trump supporters
Brentwood, N.Y. (AP) — A noisy throng, including a handful of supporters, expressed its opinions amid President Donald Trump's Long Island visit Friday.
The hundreds of protesters who lined a road outside Suffolk County Community College advocated for immigrants and other groups, including the lesbian, bisexual, gay and transgender community.
"Trump and Pence have got to go!" they chanted; Trump supporters hollered back, "You're all fascist!"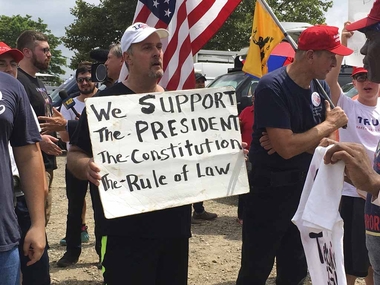 State police stood between the groups.
MS-13 was the focus of Trump's speech to lawmakers and victims' families. The street gang has committed a string of gruesome killings, including the massacre of four young men in April in a Central Islip park.
"We are involved in a battle for the very soul of this nation, and that defines who we are as Americans," said Assemblyman Phil Ramos, a Democrat from Brentwood. "Trump wants to use our tragedies as an excuse to start immigration raids in our community." He said the Republican president was "throwing meat to a red base."
"Lives are on the line" and policing is ineffective, countered Angela Martinez. "The community in Brentwood is ready for change, and I think that Donald Trump is coming to bring that change."
"I want to know my daughter can walk home safely from school," said teacher Pam Block of Setauket, but depicting gang violence "in a smear campaign against immigrants is disgusting."
"Today we are all LGBT," said David Kilmnick, chief executive officer of the LGBT Network. "Today, we are all immigrants. Today, we are all Muslim. Today, we are all women.
"We are standing together to show Trump he is not welcome here."
Copyright 2017 Associated Press. All rights reserved.
The Gayly – July 28, 2017 @ 4:15 p.m. CDT.