Disease, treatments and athletes
Courtney Caplin MD, DMD
Trans Surgical Columnist
As my fiancé is an avid wrestling fan, I have recently become aware of Mack Beggs, a transitioning male who is dominating high school Texas state female wrestling championships. I found the topic very interesting with regard to how anti-doping agencies view performance enhancing drugs in light of treating disease. Overall, these agencies oversee, test and manage athletes and for a given list of performance enhancing drugs.
Little debate exists in the argument if these substances enhance an athlete's performance. However what I find interesting is that athletes are allowed to take some of these substances if they are medically necessary.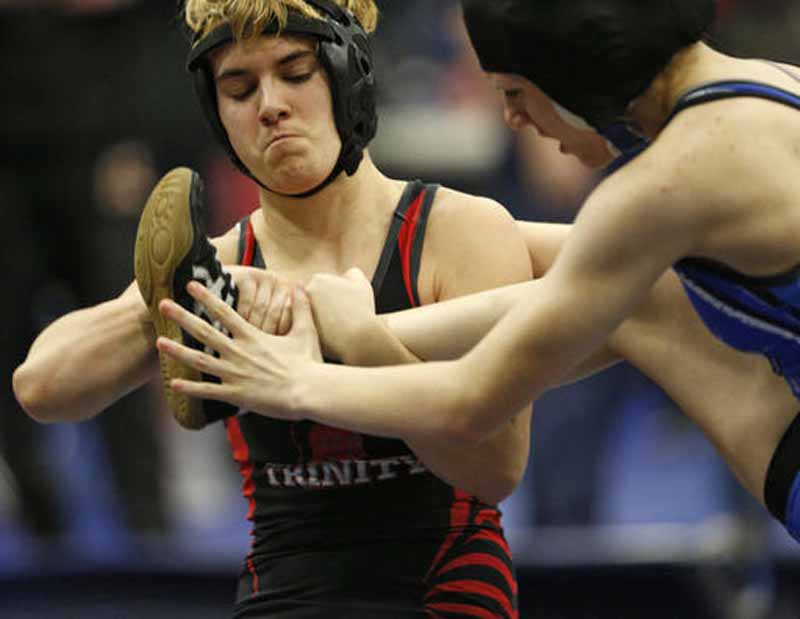 Mack Beggs, left, wrestles Kailyn Clay during the finals of the UIL Region 2-6A wrestling tournament in Allen, Texas. Nathan Hunsinger, The Dallas Morning News via AP.
For example, albuterol is a beta-2 adrenergic agonist - which means is stimulates the specific receptor that dilates the smooth muscle of the lungs opening up the airway. One can readily see how opening the airway to allow more airflow would benefit a competing athlete. One can also see why albuterol is commonly used in treating patients with asthma.
Now what about an Olympic athlete who has severe asthma? Should he be able to use the medication, which is medically necessary for him to breathe normally? I would think we would all say, "Yes, of course."
The anti-doping agencies take medical conditions into account and agree that with proper documentation, athletes can continue to take their medically necessary medication. However, agencies ban other athletes from taking the performance enhancing drugs to preserve the integrity of the sport.
So, circling back to our trans-male high school wrestler; should he be able to take testosterone as a medically necessary drug in treating his gender dysphoria despite the fact that it is a performance enhancing drug?
Testosterone is a steroid hormone and well known for its performance enhancing attributes. Should the duration the athlete has been on the drug matter or how much of the drug the individual is taking? Note that Beggs is taking half his recommended dose of testosterone, to not give him an unfair advantage over his female competitors. Should it matter where in the transition process the athlete is? Does the transgender athlete identify as male or female?
Furthermore, should the athlete then compete against males or females? What about legal documentation of gender?
I know very little about this particular athlete, but I am certain that these issues will challenge the views of organizations which segregate individuals based upon gender, as awareness and acceptance of the transgender community continues to improve.
Those are all important medical questions. But there are political considerations too. Mack Beggs would rather be wrestling in the male category. Texas' University Interscholastic League (UIL) turned down his request to compete as a boy.
The UIL rules require the use of a birth certificate to determine an athlete's gender, making it impossible to let Beggs compete as a boy. The League does have a policy that allows banned substances for medical reasons.
_
Copyright 2017 The Gayly - 4/8/2017 @ 5:35 p.m. CDT