Diversity Festivals: New "twist" for Eureka Springs
by Rob Howard
Associate Editor
"We are looking forward to another fun-filled Diversity Weekend," says Jay Wilks, an organizer of Eureka Springs' LGBT+ themed festival held three times a year.
However, there's a new twist on Diversity Weekends in Eureka. The events will be rebranded to Diversity Festivals. Still a lot of fun and great entertainment in the region's most LGBT+ affirming citiy.
"It will be Diversity Festival from now on," adds Wilks. "The Fall event happens on the same days as the Original Ozark Folk Festival. It comes the first weekend after Halloween [Tuesday, Oct. 31] so we encourage people to come out for Diversity Festival events in costume."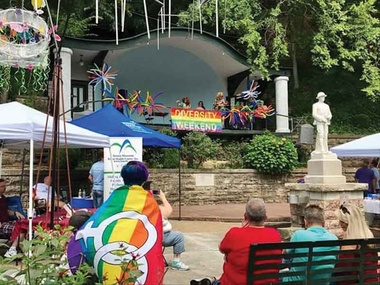 Eureka's Fall Diversity Festival will be November 3-5 and will kick-off with a Meet and Greet at Brews, Friday, Nov. 3 from 6 to 9 p.m. Lucinda Williams, headliner of the Ozark Folk Festival is expected to attend that event.
Saturday goes into overdrive in downtown Eureka's Basin Springs Park from 10 a.m. until 2 p.m. After opening ceremonies, the event will reprise the immensely popular Drag Race, introduced at this year's Summer Diversity Weekend. "People just step up and enter, male, female, straight, gay, doesn't matter," Wilks notes.
When a Drag Race number is drawn, contestants have five minutes to put on drag clothes, wigs and make-up, provided by the festival. Then a random song is drawn.
"They have no idea what their song is going to be. It's part drag show, part comedy. There were passing bikers stopped on the street to watch it. We're bringing it back this fall, it was such a hilarious event," he continues.
Wilks envisions the event becoming a regular one which will raise money for local charities. This fall, the selected charity is the Eureka Springs Flint Street Food Bank.
After the Drag Race, there will be welcoming remarks from Mayor Butch Berry, followed by the traditional PDA (Public Display of Affection). It's a tradition left over from the days when holding your partner's hand or kissing in public might endanger you. Those days are gone in Eureka.  
The afternoon continues with a variety of entertainment. At 2 p.m. the park becomes a venue for the Folk Festival.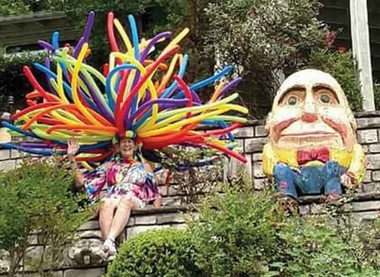 Saturday evening it's party time. From 6 to 9 p.m. there will be Drag Queen Bingo at Brews. "It's really caught on, it was the first time for Drag Queen Bingo in Eureka at the Summer Diversity Weekend," Wilks says.
Eureka Live features Alicia Blackheart and Company both Friday and Saturday nights.
In celebration of Halloween, which was early in the week, Wilks is holding a Halloween costume contest at Club Upstairs (recently renamed from Club E). First prize is $100, "so bring your costumes!"
If festival goers want different entertainment, Lucinda Williams will be performing 7:30 p.m. Friday evening at The Auditorium as part of the Folk Festival.
Eureka Springs has a lot of things to do in addition to the Diversity Festival and the Folk Festival. One of the main possibilities is that fall leaf colors will be near the peak of their glory the weekend of the festival (although, of course, it all depends on the weather, but chances are good).
Because both festivals are happening at the same time, it is a good idea to get your accommodations set early. There is a comprehensive listing available at www.eurekasprings.org/accommodations/.
Copyright The Gayly – October 24, 2017 @ 7:10 a.m. CDT.