Election a series of victories for LGBT+ candidates
Much of the big off-year election news on Tuesday night centered around the Democratic victories in the Virginia and New Jersey gubernatorial races. In addition to the election of Ralph Northam as governor, the two other statewide offices went to Democrats, and the party won at least 13 of the 17 seats it needs to take control of the state's House of Delegates. When final results are in, they may have succeeded.
In New Jersey, Democrat Phil Murphy overwhelmed Republican Lt. Gov. Kim Guadagno for the governorship.
But the truly history making results of the election came for the LGBT+ community. Nationwide, in elections for school boards, city councils, mayors and state legislators it was a night for LGBT+ people to celebrate. Transgender candidates, in particular, scored major wins.
Here are some of the victories won by gay, lesbian, bisexual and transgender candidates.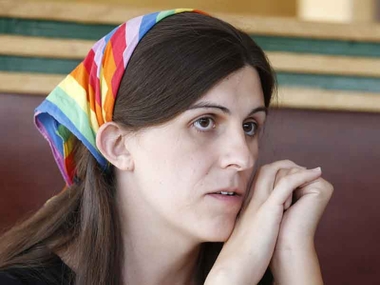 Democrat Danica Roem, an experienced newspaper reporter, beat longtime ultra-conservative Republican incumbent Bob Marshall in Tuesday's election for the Virginia House of Delegates. With her victory, Roem is set to make history as the first openly transgender person elected and seated in a state legislature. Marshal, who has referred to himself as Virginia's "chief homophobe", had served 25 years.
See coverage of Danica Roem's election victory at Va. Transgender candidate beats ultra conservative incumbent GOP Delegate.
Andrea Jenkins became the first transgender woman of color elected to public office in a major U.S. city when she won a seat in the Minneapolis City Council. She won more than 70 percent of the votes, according to the Star Tribune.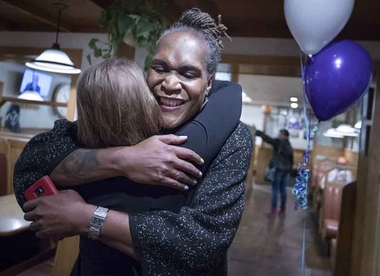 Jenkins had served as a senior policy aide to two Ward 8 city council members. She touted more than 25 years of public service experience as a policy aide, nonprofit executive director, consultant and employment specialist on her website.
A transgender man of color, Phillipe Cunningham, was also a candidate for the Minneapolis council. Cunningham was trailing the incumbent Council President by a slim margin, and still has a chance of winning in Minneapolis' three-tier election system. If he pulls ahead after second- and third-choice votes are counted, he would join Jenkins as the second transgender council member.
Tyler Titus became the first openly transgender person elected to office in Pennsylvania when he was elected to the Erie School Board.
Betsy Driver was elected to Flemington New Jersey Borough Council. She believes her victory makes her "only the second person in the world who is open about their intersex status to be elected to public office," according to Tapinto.net.
"The concept of intersex individuals confuses many. Driver has made it her mission to advocate for intersex persons and to educate the public about them."
Lisa Middleton, who is openly transgender, and Christy Holstege, who is openly LGBT, were elected to the Palm Springs, California, City Council. With their election, the city of Palm Springs will now be represented by a city council that is 100 percent LGBTQ.
Rick Zbur, Equality California Executive Director, issued the following statement in response to this historic victory: "In light of the repeated attacks on transgender people from the federal government, tonight's wins by Lisa Middleton in Palm Springs and other transgender candidates in Minneapolis and Virginia are a beacon of hope that voters have embraced values of equality and inclusion.
"By becoming the first out transgender person to be elected to a non-judicial office in California, Lisa is paving the way for others to follow in her footsteps in California and across the nation. Her first place finish out of a field of six candidates demonstrates that a glass ceiling for transgender people who want to serve in elected office was not only broken, but was shattered in Palm Springs.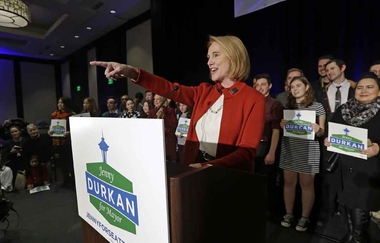 Jenny Durkan is projected to win the Seattle mayoral race, which would make her the first lesbian mayor in Seattle, and the first woman mayor since the 1920's, reported the Seattle Times. "Durkan was born in Seattle and attended law school at the University of Washington. In 2009, she became the nation's first openly gay US Attorney after being appointed by then-President Barack Obama."
Zachary DeWolf became Seattle's first openly gay school board member, according to CNN.
Copyright The Gayly – November 8, 2017 @ 1:30 p.m. CDT.