Ellen Page announces secret marriage in adorable Instagram post
Oscar-nominated actress Ellen Page announced Wednesday afternoon on Instagram that she married choreographer Emma Portner.
The actress and her partner, dancer and choreographer Emma Portner, took to Instagram on January 3 to reveal the good news.
Both Ellen and Emma posted the same photo — A cream colored canvas, showing just their hands with matching wedding bands. "Can't believe I get to call this extraordinary woman my wife," Page wrote on Instagram, adding, "I LOVE YOU!" to a series of adorable photos.
Related: 
Ellen Page says director outed her, condemns sexual harassment as ubiquitous
Ellen Page stars in 'Flatliners' marking another big role for the queer actor
Openly gay actress Ellen Page to star in unique zombie film
Ellen Page stars in "Gaycation"
Portner did the same, writing, "I get to call this incredible woman MY WIFE!… I LOVE YOU!" The newlyweds posted almost identical photos of them kissing in a field of grass, and Page
added an individual shot of Portner to her reveal.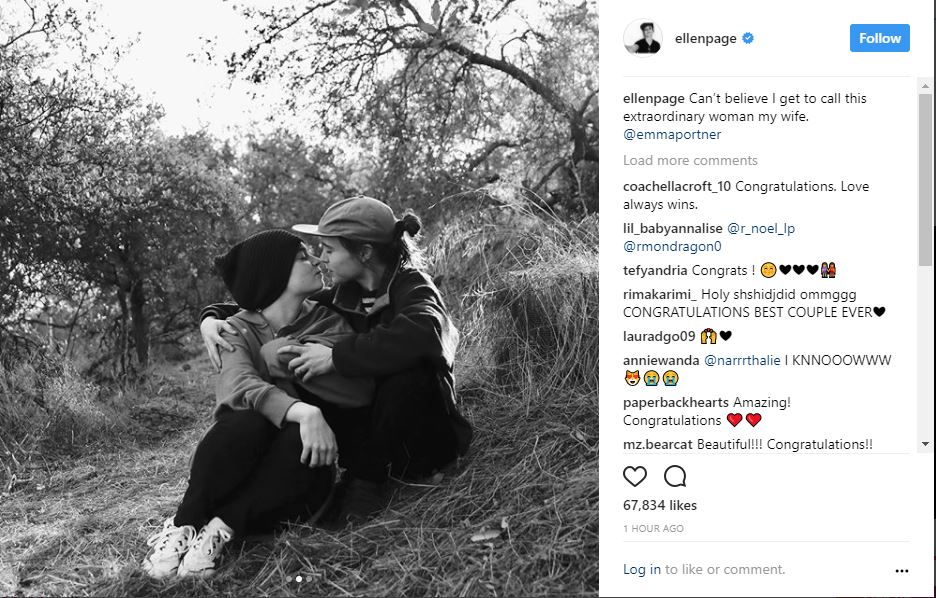 The Gayly 1/3/2018 @ 3:40 p.m. CST