Ellen Page says director outed her, condemns sexual harassment as ubiquitous
"What I want the most, is for this to result in healing for the victims," said actress and advocate Ellen Page in a lengthy Facebook post. "For Hollywood to wake up and start taking some responsibility for how we all have played a role in this. I want us to reflect on this endemic issue and how this power dynamic of abuse leads to an enormous amount of suffering."
In the post, which is over 1,600 words long, Page says director Brett Ratner outed her at 18 on the set of X Men: The Last Stand.
"'You should f*ck her to make her realize she's gay.' He said this about me during a cast and crew 'meet and greet' before we began filming, X Men: The Last Stand. I was eighteen years old. He looked at a woman standing next to me, ten years my senior, pointed to me and said: 'You should fuck her to make her realize she's gay.' He was the film's director, Brett Ratner."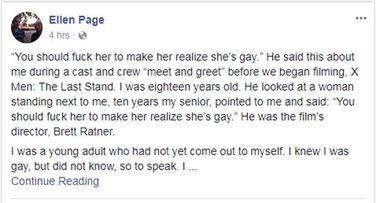 Page describes the behavior revealed in the industry in the last few weeks as ubiquitous, starting with an October 5 New York Times story detailing sexual harassment allegations against director Harvey Weinstein going back 30 years.
"I have been a professional actor since the age of ten. I've had the good fortune to work with many honorable and respectful collaborators both behind and in front of the camera. But the behavior I'm describing is ubiquitous. They (abusers), want you to feel small, to make you insecure, to make you feel like you are indebted to them, or that your actions are to blame for their unwelcome advances."
For previous reaction to the sexual harassment scandal, see: Ashley Judd says 'tipping point' here on sexual harassment.
Page revealed harassment incidents against her going back to at least when she was 16. She started acting at 10. Describing the incident when she was 16, she says, "It was a painful realization: my safety was not guaranteed at work.
"An adult authority figure for whom I worked intended to exploit me, physically. I was sexually assaulted by a grip months later. I was asked by a director to sleep with a man in his late twenties and to tell them about it. I did not. This is just what happened during my sixteenth year, a teenager in the entertainment industry."
The actress criticized behavior by President Trump, Supreme Court Justice Clarence Thomas, Bill Cosby, Weinstein and director Roman Polanski: "These abusers make us feel powerless and overwhelmed by their empire. Let's not forget the sitting Supreme Court justice and President of the United States. One accused of sexual harassment by Anita Hill, whose testimony was discredited. The other proudly describing his own pattern of assault to an entertainment reporter. How many men in the media – titans of industry – need to be exposed for us to understand the gravity of the situation and to demand the fundamental safety and respect that is our right?"
Page concluded her post by saying, "This is a long awaited reckoning. It must be…. Don't allow this behavior to be normalized. Don't compare wrongs or criminal acts by their degrees of severity. Don't allow yourselves to be numb to the voices of victims coming forward. Don't stop demanding our civil rights. I am grateful to anyone and everyone who speaks out against abuse and trauma they have suffered. You are breaking the silence. You are revolution."
You can read Ellen Page's post in its entirety here.
Copyright The Gayly – November 10, 2017 @ 4 p.m. CST.