Elton announces retirement: A look back at the legend's career
Musical icon Sir Elton John is saying goodbye to life on the road.
"I've been touring since I was 17 with various bands," John said. "I thought the time is right to say thank you to all my fans and say goodbye."
John announced in a press event on that his next world tour will be his last. The three-year tour started in September 2017.
Tickets went on sale January 30. By February 3, 60 shows had already sold out. 
The highly-decorated artist has won five Grammy Awards, a Tony and an Academy Award.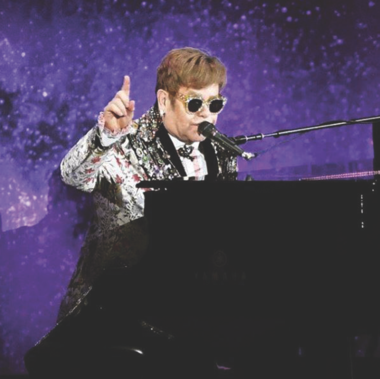 Early in his career, John was known for flamboyant costumes and chic glasses. He's taken the stage wearing a duck suit, a sequined baseball uniform and a Ronald McDonald outfit. He wore the colorful clothes to help create a manifestation of his true personality and offset his shyness onstage.
He is the third most successful Billboard Hot 100 artists of all time, according to the magazine's tally of sales for music released between 1958 and 2015. Only the Beatles and Madonna rank higher than John.
John has 67 total entries on the Hot 100. With nine having hit number one, he's tied for 10th place among all acts for the most leaders. 
Activism has also dominated the performer's life. 
The Elton John AIDS Foundation (EJAF) was founded in 1992. EJAF, a leader in the global effort to end AIDS, donated almost $9.5 million in 2017 to organizations addressing the HIV/AIDS epidemic in critical and innovative ways.
The U.S. foundation was recently recognized by Funders for LGBTQ Issues as the largest funder of LGBTQ health programs in the nation and by Funders Concerned About AIDS as the largest HIV funder of programs for transgender people.
However, many acts, including Cher, Kiss and Ozzy Osbourne, have launched farewell tours only to return to the road just a few years later. But John insisted this is for real adding, "I'm not Cher.
"I'm not going to be touring and traveling the world. My priorities have changed. I have young children."
John concluded, "That doesn't mean I won't still be creative, but I won't travel anymore...I don't want to go out with a whimper. I want to go out with a bang. It'll be the most produced, fantastic show I've ever done."    
John is currently collaborating on a Broadway musical based on The Devil Wears Prada.
Fans can still catch the Rocket Man in Las Vegas, where John is on his second residency at Caesars Palace. The Million Dollar Piano show will end this May.
The Gayly. March 21, 2018. 9:28 a.m. CST.