Elton John receives Harvard Foundation humanitarian award
Elton John has won plenty of awards for his music, including eight Grammys, a Tony, and an Oscar, but his activism on behalf of millions of people affected by the AIDS epidemic that earned Sir Elton the Harvard Foundation's 2017 Peter J. Gomes Humanitarian Award.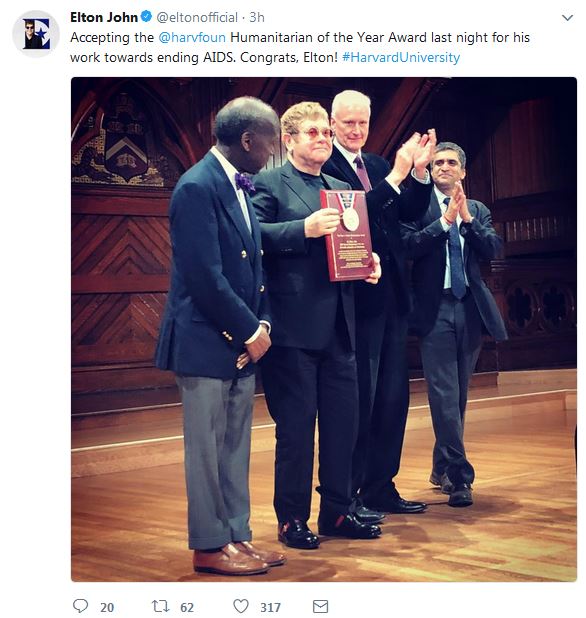 And yet the Rocket Man, whose Elton John AIDS Foundation has raised more than $385 million to support HIV/AIDS-related programs, told an audience of students, staff, and superfans at Sanders Theatre Monday that he wishes he'd done more to help others.
More on Elton John:
Elton John responds to Betty Price's comments on quarantining people with HIV
Elton John sets final Vegas shows
Elton John supports marriage equality with tribute
Oklahoma AIDS Care Fund Awarded Elton John AIDS Foundation Grant
The 70-year-old singer said he was "imprisoned by [his] extraordinary fame" early on and became "a loathsome person — selfish, self-centered, disconnected." John said he'd been in a haze of drugs and alcohol — a "cesspool of excess" — during the AIDS outbreak of the 1980s.
"I'm really a kind person, but the drugs made me a monster," he said. "Do not waste your life. I wasted my life, but I'm making up for lost time now, OK?"
Information was gathered from this article.
Copyright 2017 The Gayly - 11/7/2017 @ 9:55 a.m. CST