Elton John's mother dies only months after their reconciliation
(CNN) Elton John is mourning the death of his mother, Sheila Farebrother, shortly after the pair rekindled their relationship.
The 70-year-old singer shared the sad news with his fans through Twitter and Instagram on Monday, writing, "So sad to say that my mother passed away this morning. I only saw her last Monday and I am in shock. Travel safe Mum. Thank you for everything. I will miss you so much. Love, Elton."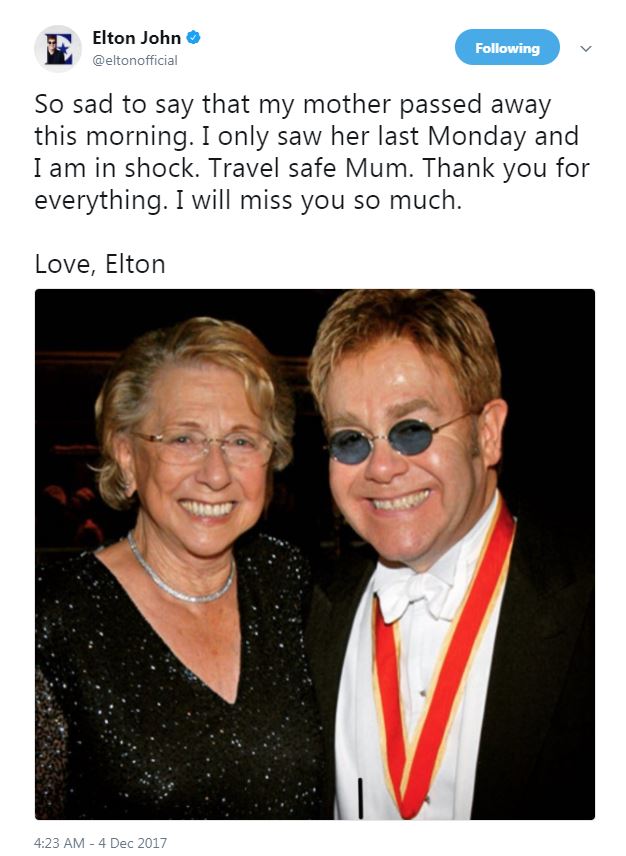 The musician announced this spring that he had reconciled with his mother after a nearly decade-long estrangement. John shared a smiling photo of the duo on Mother's Day, writing, "So happy we are back in touch."
More on Elton:
Elton John calls for compassion, resources and support on World AIDS Day 2017
$4.4 million raised for Elton John's AIDS Charity
Elton John receives Harvard Foundation humanitarian award
Elton John sets final Vegas shows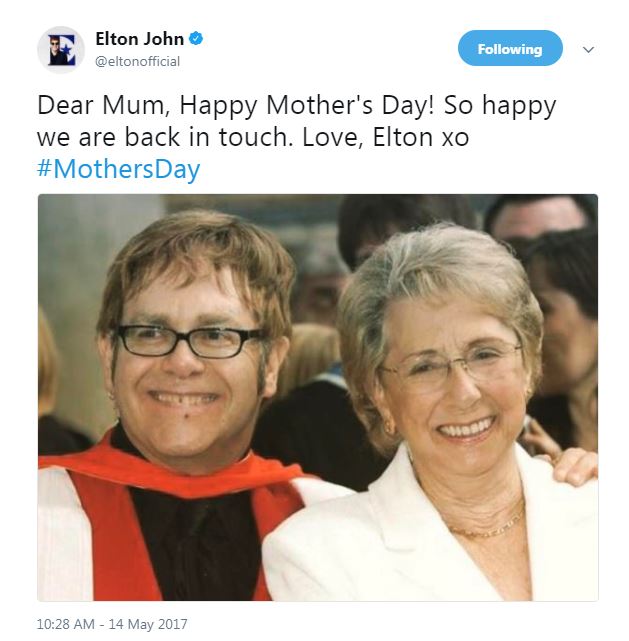 In 2016, John had confirmed to the Daily Mirror that he had buried the hatchet with his mom, saying, "We are now back in touch."
"Out of respect for my mother's privacy, I have always shied away from speaking publicly about our relationship," he added. "However, I can say that we are now back in touch and have been so since my mother's 90th birthday."
Farebrother's cause of death has not been disclosed.
The-CNN-Wire™ & © 2018 Cable News Network, Inc., a Time Warner Company. All rights reserved.
Copyright The Gayly – December 4, 2017 @ 2:15 p.m. CST.