Eureka's Summer Diversity Weekend features entertainer Kris Kohl
by Rob Howard
Associate Editor
Eureka Springs, located in the Ozark Mountains in Northwest Arkansas, has been a resort destination for over a century. Over the past few decades, it has blossomed into one of the gayest - and most gay friendly - cities in the South.
How gay? One LGBT+ Pride celebration isn't enough. Eureka Springs has three and calls them Diversity Weekends. Spring's was April 7-9. Upcoming is the Summer Diversity Weekend, August 4 – 6.
"All of our diversity weekends are designed for people to come and have fun in a beautiful setting in a town that truly loves them for who they are," says Jay Wilks, one of the event organizers.
Every Diversity Weekend features lots of activities with entertainment in the city's Basin Park, as well as in clubs around town. 2017's Summer Diversity Weekend opens Friday, August 4 with a Meet and Greet mixer from 6 to 8 p.m. at Brews, featuring their craft beer and other refreshments.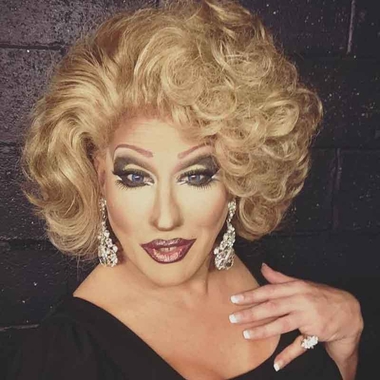 Diversity Weekend shifts into high gear on Saturday at Eureka's Basin Park. After a non-denominational blessing and brief welcoming speeches, the entertainment begins with a Drag Race contest hosted by Kris Kohl, a drag celebrity from Tulsa, Okla. Kohl, in addition to having over 20 titles to her name, is a long time HIV/AIDS activist.
Afternoon festivities begin at noon with a welcome from Eureka Mayor Robert "Butch" Berry. The event includes the traditional PDA (public display of affection) and photoshoot in the park, as well as musicians Clay Cole and Jeff Alvine; comedians Doug "Mama" Shadell and Liz Petry; and a drag show hosted by Kohl and Josie Turell.
Other entertainment in the "Side Attractions" area includes a local magician, and Roxie, Eureka's "Balloon Lady".
Saturday evening, the action shifts to the clubs. Kohl hosts Drag Queen Bingo at Brews. "Mama" Shadell is featured at Club E, followed by a dance party including performances by Kohl and special guests. Other events include a drag/dance party at Eureka Live and music at Chelsea's.
The Weekend concludes on Sunday with a brunch from 10 a.m. to 2 p.m. at FRESH Farm to Table Fresh, a restaurant/bistro that prides itself on serving only the freshest organic foods and maintaining five-star quality ratings.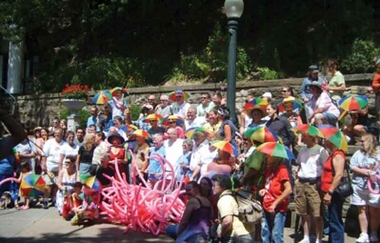 Events are everywhere. There are a large number of LGBT+ friendly and LGBT+ owned businesses in the town. "It's an art and music city," said Wilks. "We have lots of great independent stores and restaurants. There is always live music in town."
"Not only are there in town events," says Wilks. "There is also a lot of summer fun at Beaver or Table Rock lakes.  Fishing, swimming, kayaking, float trips and hiking."
For a complete schedule of events visit the Out in Eureka Facebook page. Wilks suggested that out of towners book their accommodations now. Full information about accommodations, activities, dining and wedding planning is available at www.EurekaSprings.org.
Fall Diversity Weekend will be November 3 - 5 and corresponds with the 70th Annual Original Ozark Folk Festival.
Copyright 2017 The Gayly – July 19, 2017 @ 10 a.m.