by John Gibbons
OKC Pride President
By now, most members of the LGBT community have heard that Oklahoma City Gay Pride weekend is one of the largest privately held annual events in our city. 2017 will mark my eighth year working on Pride Weekend.
In the early years of my association, OKC Pride, Inc. had annual revenues in in the range of $52,000, with an estimated 30,000 people attending either the festival or parade. Over the years, our event has grown to revenues in excess of $300,000 with city officials estimating an excess of 80,000 people attending.
Some years ago, a small, informal group of volunteers would meet on a regular basis sometime in March and begin planning for that year's festivities. Those days are long gone. Today, for OKC Pride to fulfill its annual obligation, the board of directors is required to meet and work year-round, and now more than ever, we need good people to be a part of making it happen.
Good people like you!
OKC Pride belongs to the members of our community, our allies and supporters. If you have ever considered volunteering your time, becoming part of a dynamic, ever-growing community-based organization, then please consider OKC Pride. Whether you can spend ten hours a week or ten hours a month, your community needs you if we are to continue sustaining and growing the biggest annual party in OKC. We have several standing committees for you to consider – everything from helping to plan the parade and festival, ironing out concert details or manning the beer tents.
Each year, I say to myself, "This year will be my last of working on Pride Weekend." And every year, without fail, I have what I have learned to call my "Pride moment," that moment when it is absolutely clear why I do it.  This year, that moment came when my husband Brett and I were walking around the festival Sunday morning.
While making the rounds and visiting with the festival vendors, a young man approached us. He asked Brett, "Are you really Kitty?" Brett said, "Yes," and introduced himself. The young man told us his name was Brandon and how much he loved coming to the strip with his small group of gay friends, and how much they loved all the shows at the clubs. Brandon told us that he was not out to his family at all, that he was frightened they would disown him and he would be totally alone in the world.
Then he said, "This is my first Pride. I got to see the concert, and that changed everything for me. I figured with this many people in this city just like me, there is no way I could ever be alone." He told us that on the following Saturday, he called his family, told them he was gay and that he is safe and happy. Brandon went on to say he was not sure how things would work out with his family in the long run, but that he was absolutely sure he made the right choice.
That was it – that moment that every nearly every board member, committee member and volunteer experiences at least once each year. In that moment, it is absolutely clear why we do what we do.
At the current rate of growth, the sustainability of OKC Pride is front and center in our discussions and planning. Every aspect of this public holiday – from volunteers to fundraising to project management – has to be reviewed, evaluated and elevated every year. Pride is important. Pride saves and changes lives, and it clearly demonstrates we are a strong and united family with an eye on the future while remembering our roots.
In the years that have passed since I was fortunate enough to be first elected to the OKC Pride board of directors, I have become increasingly confident that the future of OKC's LGBTQ community is ours to write. We'd love to see your name in one of its chapters.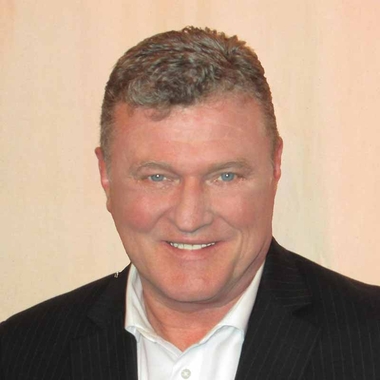 John Gibbons, OKC Pride President. Photo provided.
For more information about OKC Pride, visit www.okcpride.org.
Copyright The Gayly 9/8/2016 10:07 a.m. CST