Finding gentle care at Gentle Care
An animal clinic that can meet all your pet needs
by Robin Dorner
Editor in Chief
From the outside of Gentle Care Animal Clinic's new office at 2301 NW 178th Street in Edmond, it's clear that all are welcome. Dr. Chris Rispoli – better known as 'Dr. Chris' – wanted it that way.
Dr. Chris and his staff moved in to this new Edmond location just three months ago; it was designed to make everyone feel welcome.
"When I became a vet, I wanted the LGBT community to know I was gay so they felt comfortable and knew they were in a safe place," said Rispoli. His logo has always had the rainbow in it. "Most people just think it's a reference to the 'rainbow bridge' anyway. Unless they are 'family'!
"When I moved to Oklahoma. I just thought, 'Hey, this is me.' I wanted to project who I was."
Dr. Chris graduated from Oklahoma State University's Veterinary school in 1997. His and Gentle Care Animal Hospital's mission is to provide the highest standard of quality and compassion in veterinary care for patients and welcoming, informative and supportive service for their clients, while maintaining a superior working environment for employees.
And that it does.
"It literally is a family," said Skyler Caldwell, Gentle Care's Practice Manager who started as a veterinary technician and has worked her way up in the practice. She even helped with some of the new ideas implemented in their new location.
"My staff? They're amazing," exclaims Dr. Chris. "It's not my staff, it's really my family. Everybody gets along. I don't do the drama thing."
Dr. Chris said they have a unique way of handling the difficulty of work situations.
"Every day we have a meeting and talk about what our hindrances from the previous day were and we just work it out. Everybody realizes we have different personalities. They often see when we have a bad day it's because I'm having a bad day."
They're so much like family that one of his resident veterinarians, Dr. Heather Bentley and her wife Ren Gaulrapp, were married in Dr. Chris' back yard.
And there's never a dull moment at Gentle Care. On this day, there was a Corgie who had eaten a diamond ring and they were discussing ways to retrieve the ring. Once there was a dog who ate some olives…with the toothpicks! That was more difficult to diagnose, because toothpicks won't show up on an x-ray.
Gentle Care Animal Hospital offers the animal community emergency veterinary services in addition to standard medical, surgical and dental veterinary care. Because they have an in-house pharmacy, lab, radiology facilities and Intensive Care Unit, the facility enables you to make one stop for your pet's medical care.
Dr. Chris is in Edmond but has clients as far as Piedmont, Enid, Eufaula and all throughout the metro.
Dr. Chris designed an impressive 'comfort room' to help people who have had to make the choice of euthanasia for their pet.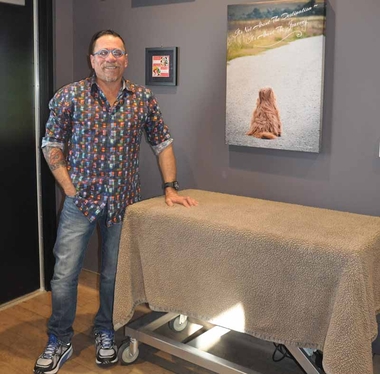 "In the first clinic, I only had one exam room. People would cry in that room because 'this is where we let 'Sammy' go,'" he said. "I knew then I wanted a separate room for euthanasia and I wanted an exit door where people could mourn while entering and leaving out a door where there weren't people with their happy, healthy puppy with them as they are holding a dying dog.
"It's a very important event for me. I am lucky to be in a profession where I can make these pets comfortable as they go home. They don't have to suffer anymore."
He and his staff consider it a privilege to be there at that time. The family can be at the front of the pet loving them while the veterinarian takes care of what needs to be done.
"I wanted to make it look like a home."
Dr. Chris all-too-well knows the loss of a pet can hit a person very hard. He's lost many beloved pets and sadly, his beloved dog Betty died suddenly about a year ago. She was just six years old. The entire clinic, including patients, mourned.
"Sometimes you just have a dog that bonds with you; Betty was that dog. I knew she loved me exactly the way I loved her." Dr. Chris becomes emotional every time he speaks of Betty – she went to work with him every day at the clinic.
Dr. Chris said his husband, Jimmy Schumsky, is very supportive. "Never once has he complained about the hours I put in. He just tells me he is happy that I am doing something I love." They have been together 16 years and married just this past year in August.
Dr. Chris will have an open house on June 10, at their location, 2301 NW 178th Street, Edmond, OK. Anyone and everyone is invited.
To make an appointment at Gentle Care Animal Clinic, call (405) 285-9663 or visit www.gentlecareah.net.
Copyright 2017 The Gayly – March 20, 2017 @ 12:15 p.m.