First "Mamma Mia" trailer out – OMG!
Mamma Mia! Here We Go Again is coming to theaters July 20, and the first trailer boosting the flick is just out.
The original Mamma Mia, released in 2008 has become a classic. It was the highest-grossing movie musical ever when it came out. And now, buzz is building for the sequel – or prequel as the New York Times called it – because of a famous newcomer. Cher plays Donna's mother Ruby Sheridan, and makes a grand entrance at the end of the trailer.
For more about Cher, visit: Cher's role in "Mamma Mia" sequel revealed and "The Cher Show" headed to Broadway.
Spoiler alert: The trailer and this article contain some very interesting information.
The Times calls the movie a prequel because much of the action is handled as flashbacks.
"The sequel shows a pregnant Sophie (Amanda Seyfried) returning to the island, but this time her mother, Donna, played by Meryl Streep in the 2008 movie, appears to have died. Scared of becoming a new mom, Sophie seeks the guidance of Tanya (Christine Baranski) and Rosie (Julie Walters)," said the Times.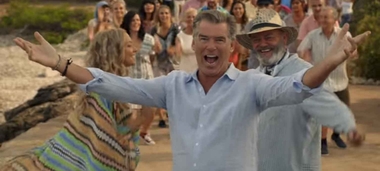 Streep still appears as Donna in Here We Go Again, as well as in the flashbacks to the first movie. Her love interests, Pierce Brosnan, Colin Firth and Stellan Skarsgard, are all in the sequel as well.
As if the drama, the scenery and the music by Abba aren't enough to make the flick a must see, Cher's arrival at the end of the trailer is frosting on the cake.
Cher "drops in" as Ruby and exclaims, "Let's get the party started!"
Sophie responds, "Grandma, you weren't invited."
Pulling her sunglasses down, Rudy answers, "That's the best kind of party, little girl."
Classic Cher!
Copyright The Gayly – December 21, 2017 @ 2:10 p.m. CST.