First bisexual superhero makes debut in Thor: Ragnarok
Valkyrie, the warrior hero, is played by Tessa Thompson. 
Thor: Ragnarok will contain Marvel's first bisexual film superhero. The character, a renegade warrior hero, is bisexual in the comics.
Thompson confirmed she brought that sexuality into her acting choices on-screen. 

Thompson confirms that while her character is bisexual, it's not "explicitly addressed" in the movie.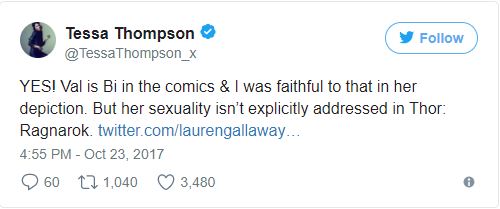 In March, the yellow Power Ranger was announced to be the first bisexual superhero for a franchise film. 
Read other LGBT+ comic book stories: 
Comic shop seeks to highlight 'nerd' diversity
'Wonder Woman' comics writer reveals character is gay
Thor: Ragnarok opens November 2.
The Gayly – October 25, 2017 @ 10:25 a.m. CST.