Gary Busey to receive deadCenter's Film Icon Award May 20th in Oklahoma City
(Oklahoma City) Gary Busey will be the guest of honor at a gala in Oklahoma City on Saturday, May 20, and will be presented with deadCenter Film Festival's Oklahoma Film ICON award. Busey is an Oscar-nominated actor whose seminal performance as Buddy Holly launched a Hollywood acting career that has spanned decades.
The Very Gary Busey Gala will be on Saturday, May 20, from 8 – 11 p.m. at The Jones Assembly, a new restaurant, bar, music, and entertainment venue opening on west Sheridan, next to 21C Museum Hotel. The Gala will take place before the venue officially opens to the public. Tickets are $100 and can be purchased online at www.deadcenterfilm.org.
Gary Busey is a graduate of Nathan Hale High School in Tulsa and played drums for Leon Russell and Willie Nelson before heading to Hollywood. In 1978, he landed the role of Buddy Holly, playing guitar and singing all of the vocals. The performance earned Busey a Best Actor Oscar nomination. Roles in Hollywood hits like Lethal Weapon, Point Break, The Firm, and Under Siege solidified his place as an enduring actor.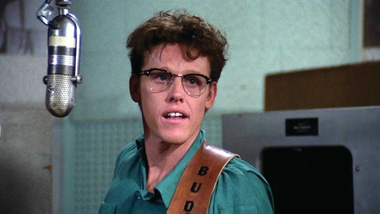 Gary Busey as Buddy Holly in 1978's hit "The Buddy Holly Story". Photo courtesy Gary Busey.
The Oklahoma City Museum of Art will also host a screening of The Buddy Holly Story (1978) at 7:30 p.m. on Thursday, May 18, as part of the celebration. The Buddy Holly Story won the Oscar for Best Original Score in addition to Busey's Best Actor nomination.
"As an actor, Busey has appeared in more than 160 film and television roles," said deadCenter's Lance McDaniel. "Sixty of those roles have taken place since 2003 when he first started in reality television. At 72, Busey is busier and more widely recognized than all but a handful of his acting contemporaries. We're honored to welcome him back to Oklahoma, and present him with this prestigious award."
Busey starred in his own Comedy Central Show I'm with Busey. He also appeared on Dancing with the Stars, Celebrity Rehab with Dr. Drew, and twice on Celebrity Apprentice. And, he parodied himself on The Simpsons, Two and a Half Men, Scrubs, American Dad! and several episodes of HBO's Entourage.
The Oklahoma Film ICON Award was created by deadCenter Film to link the Oklahoma film community with Oklahomans succeeding in the movie industry around the world. Actors James Marsden, Wes Studi, and Tim Blake Nelson have been honored alongside Oscar-winning producer Gray Frederickson, Emmy-winning editor Carol Littleton, and Oscar-winning make-up artist Matthew Mungle to highlight the diverse range of achievements Oklahomans have contributed to the industry.
The deadCenter Film Festival will be June 8-11 in multiple venues in downtown Oklahoma City.
deadCenter Film is a non-profit organization that hosts an annual festival each June, leads free film classes to 3,000 high school students each fall, and provides year-round film seminars for people of all ages and monthly screenings at 21C Museum Hotel. The deadCenter Film Festival is Oklahoma's largest film festival and one of the "20 coolest" film festivals in the world. For more information, visit www.deadcenterfilm.org.
_
Copyright 2017 The Gayly - 5/4/2017 @ 8:41 a.m. CDT