by Vick Silkenpen
Manhunt: UNABOMBER: Perhaps the events surrounding the deadliest serial bomber in our history escaped your attention at the time, but this eight-episode series on Discovery network has come a long way. It fills us in on those remarkable events and the extraordinary minds and methods surrounding them.
Rather than take a straight linear unfolding of the true story of Ted Kaczynski (Paul Bettany) and his motives for becoming the infamous Unabomber, the somewhat fictionalized storyline leaps forward and backward. Young FBI agent Jim "Fitz" Fitzgerald (Sam Worthington) pioneers and hones a new technique employing forensic linguistics to profile and track down Kaczynski.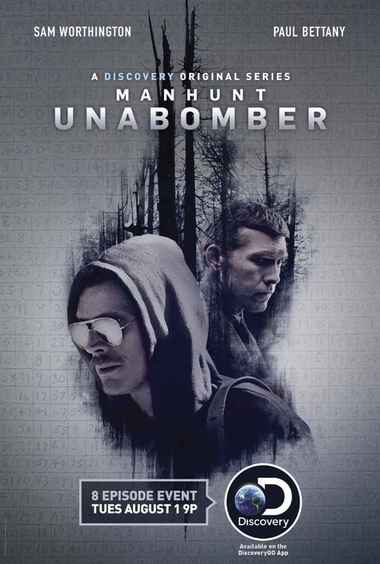 Even as we realize there are shades of the Unabomber in all of us, we sympathize with various points of Ted's near-neo-Luddite manifesto and how technology is increasingly and alarmingly controlling us.
This gripping production hits the head of a reality nail when it depicts other co-workers of Fitz' jealously seizing and outright stealing any public credit due to Fitz once Kaczynski is captured.
This behavior not only goes on in law enforcement agencies but I have witnessed it happening repeatedly in political movements and parties, educational departments, business settings, on boards and just about any place humans can get away with it. That sort of pitiful skullduggery leads to false histories of how events were addressed and solved.
In this case, Fitzgerald managed to get his viewpoint of what happened across while depicting Fitz' co-workers in an endlessly revealing light.
Ozark: In the summer of 2012, I stayed in a cabin at Osage Beach on Lake of the Ozarks in Missouri. Just a few weeks before, there had been repeated separate incidents of people swimming and ending up mysteriously electrocuted (yes, some to death). Even though I had vowed to not go swimming until these were officially solved, the weather was so sweltering and the beach (with electrically wired docks nearby) was so inviting, before I knew it I was in it up to my neck.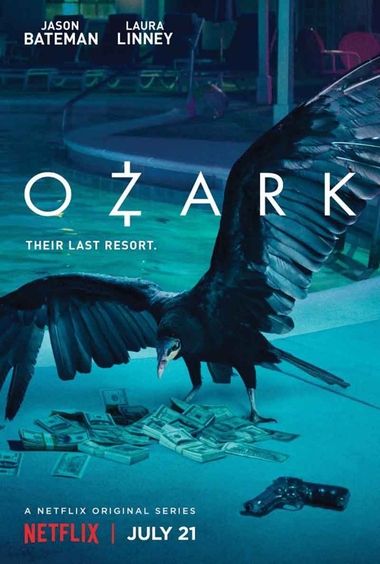 The feelings of dread and fear can be powerful in holding our attention.
In this recent Netflix series, characters played by Jason Bateman and Laura Linney "relocate" with their family from Chicago to this same Ozark location. Marty (Bateman) is required to launder millions of dollars of drug cartel money by plowing it into local businesses on the lake. The culture shock of this reverberates through his family members and many of the yokels are savvier than first thought.
Electrocutions from exposed dock wires even figure into the plot repeatedly.
You can view this darkly edgy series while making many heavy comparisons to Breaking Bad since the writers and creators are aware you may do just that. They overcome any predictability with sinister though logical twists and turns you just can't see ahead.
Acting by Bateman, and especially quirky Linney, is absolutely superb and watching them maneuver while up to their necks is outrageously binge-worthy.
Copyright The Gayly – October 31, 2017 @ 7:10 a.m. CDT.