Gays Against Guns brings direct action to the fight against gun violence
Doesn't want to abolish the Second Amendment
by Rob Howard
Associate Editor
It was an eerie sight. Forty-nine silent, somber figures dressed in white with white veils over their faces marched in New York City's 2016 LGBTQ Pride parade. Each represented a victim of the Pulse terror attack. Each had a sign with an image of one of the victims, their age and their name.
The marchers represented a new LGBTQ activist group called Gays Against Guns (GAG), formed in just 13 days between the attack and the Pride parade.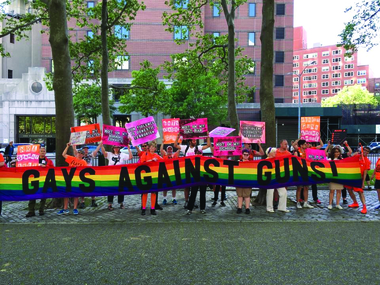 Gays Against Guns take part in a demonstration in New York City. Photo provided.
"We formed in response to Pulse," says Natalie James, a member of GAG's Steering Committee. "We are a direct action and public educational group to promote sensible gun law reform in this country. We want to fit ourselves into the framework of the gun control network. There hasn't been much of a direct action component to the network."
The haunting figures play a large part in the group's direct action, street theater events, videos and ad campaigns against gun violence. "It's a core visual for us," says James. "We have workshops to explain how to behave. For example, no speaking, no noises, not to look at phones or text. Simply to walk silently or stand silently. And to carry a sign that shows an image of a lost person, their age and their names.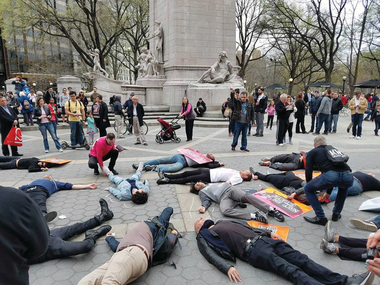 GAG staged a "Reciprocity is an Atrocity" demonstration in April. Photo provided.
"We bring a queer perspective informed by ACT-UP to the gun violence prevention movement. They are impressed by effective activism," say James. People in the movement have been impressed by gay activism in the HIV/AIDS epidemic and in the fight for marriage equality. "We have people from both of those movements - ACT-UP and marriage equality - and our work is informed by those."
One of GAG's primary focuses is fighting what is called the Concealed Carry Reciprocity Act of 2017 in the U.S. Congress - HR 38 and SB 446. The idea is that a concealed carry permit from one state must be recognized in every other, even from states like New Hampshire where gun owners don't need a permit or training to carry firearms.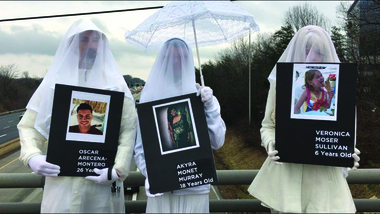 White veiled, silent figures representing the dead from gun violence are an integral part of GAG's street theater events. Photo provided.
Since New York City does issue concealed carry permits on a very limited basis, this means that visitors to the city from states with much less restrictive gun rules could legally bring their guns with them.
GAG's PowerPoint The Atrocity of Reciprocity, says "Reciprocity is part of the NRA's vision for #GunsEverywhere." The document cites statistics that LGBTQ people are more likely to be the target of hate crimes than any other minority group, and that seven of the nine trans people killed in 2017 so far have been murdered with a gun. It concludes with the observation that, "Reciprocity would be a boon to homophobic, transphobic and racist gun-owners."
James says continued direct action is critical. "It's been shown time and time again – after Sandy Hook, after Aurora, after Pulse – that after a few weeks pass, the will to push for sensible gun control measures goes away," she says. But, she points out, "The gun people are always pushing their actions."
"We bring an esthetic to protests that are eye-catching; we bring the ability to hold attention on this issue. We are inspired by ACT-UP. Their direct action technique of the 'die-in' is something we have utilized, illustrating gun violence.

One of the 20 GAG ads fighting concealed carry legislation in Congress. Photo provided.
"We have taken two trips to DC, one in the summer after Pulse, and did a die-in in front of the Lincoln Memorial, a beautiful representation; a combination of people on the ground and others as veiled figures representing the dead."
The GAG abbreviation for the group's name shows both their sense of humor and their activist knowledge about what attracts and holds attention. They have sub-groups such as GAG Reflex, an acapella choir that composes and sings what James calls "saucy lyrics"; GAG Real, which produces videos to educate people about gun violence and Queens of the Night, which puts posters on abandoned buildings.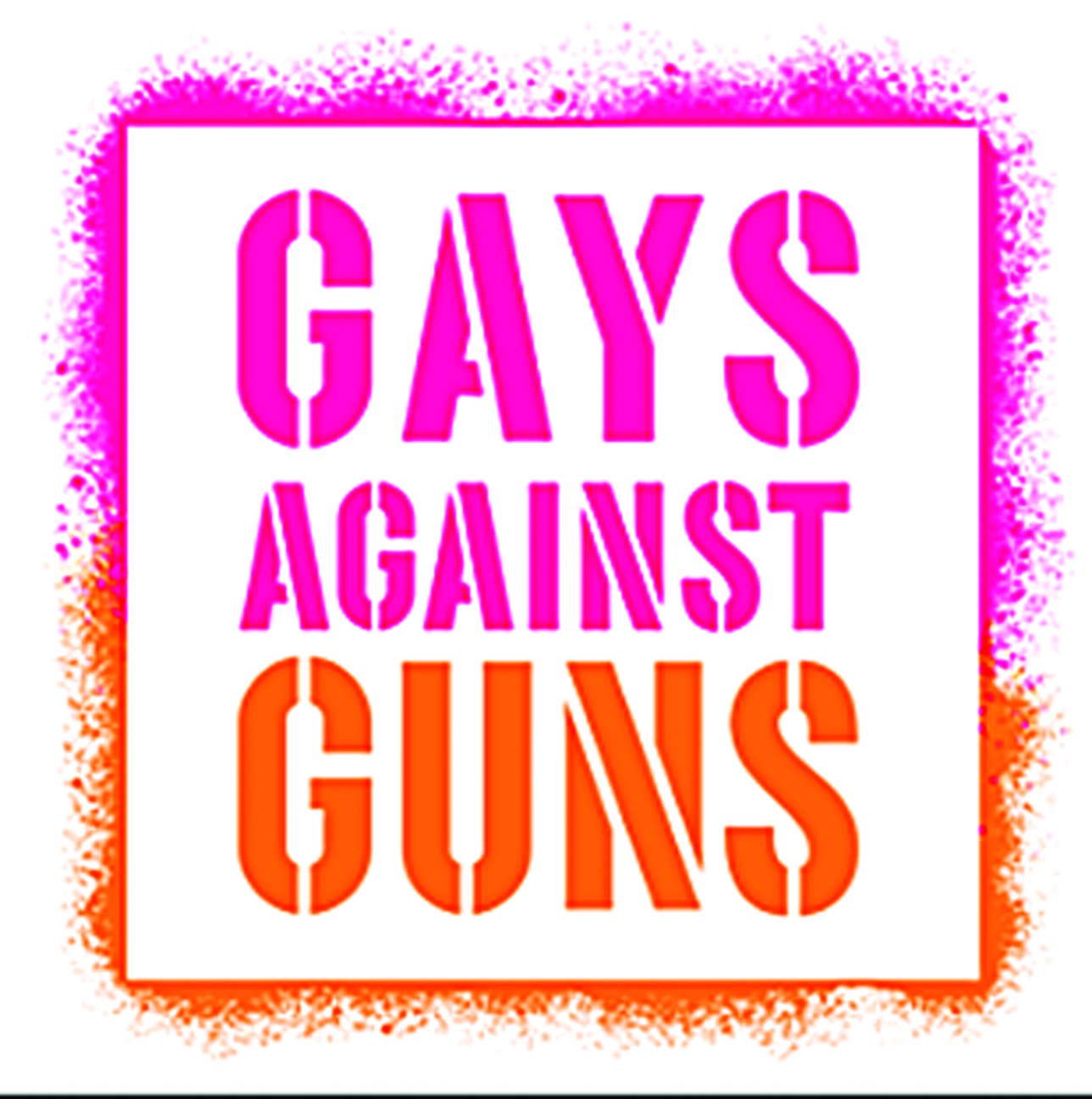 Logo – no cutline
James stresses that GAG doesn't want to abolish the Second Amendment. "We just believe in common sense gun reform that many or most Americas believe in already," she says.
In addition to the New York City group, GAG groups have formed in Orlando, New Jersey, the District of Columbia and Provincetown, Mass. For more information, visit www.gaysagainstguns.net.
_
Copyright 2017 The Gayly - 7/15/2017 @ 8:24 a.m. CDT