"I pledge allegiance…to the band." Those are the words of Dewey Finn in School of Rock. "But, you can't just say it, man. You've gotta feel it in your blood and guts! If you wanna rock, you gotta break the rules.
"You gotta get mad at the man! And right now, I'm the man. That's right, I'm the man, and who's got the guts to tell me off? Huh? Who's gonna tell me off?"
You'll hear this and more when OKC Broadway brings this New York Times Critics' Pick production, School of Rock to rock Oklahoma City this February at the Civic Center.
School of Rock is a musical about learning what it means to truly rock.
Based on the hit film, this hilarious new musical follows Dewey Finn; a wannabe rock star turned substitute teacher who transforms a class of straight-A students into grade-A rockers.
"God of Rock, thank you for this chance to kick ass. We are your humble servants. Please give us the power to blow people's minds with our high voltage rock. In your name we pray, amen."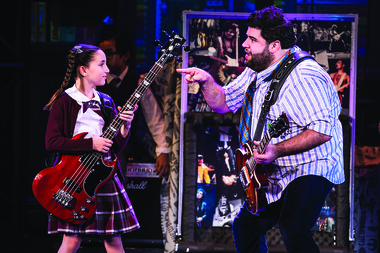 The production features 14 new songs from Andrew Lloyd Webber, all the original songs from the movie and musical theater's first-ever live kid's rock band!
Headlining the cast will include Rob Colletti (The Book of Mormon on Broadway) in the lead role of Dewey Finn, Lexie Dorsett Sharp as Rosaslie Mullins and an exciting cast of adults and children making their national tour debuts.
School of Rock, presented by OKC Broadway, will play in Oklahoma City's Civic Center Music Hall at 201 North Walker Ave. in OKC. Performances will be in the Thelma Gaylord Performing Arts Theatre February 6-11.
Showtimes are February 6-8 at 7:30 p.m., February 9 at 8 p.m., February 10 at 2 p.m. & 8 p.m. and February 11 at 2 p.m. & 7 p.m.
For tickets, visit www.OKCBroadway.com or call (405) 297-2264. You may also stop by the Civic Center Box Office.
Recommended for ages 8 and up. Parental guidance suggested due to mild adult language.
The Gayly 1/24/2018 @ 10:04 a.m. CST