GLSEN's Wichita chapter looks forward to 2017
by Victoria Backle
Staff Writer
The South Central region isn't usually attributed to being the most gay-friendly area in the United States. Kansas, especially, has had their setbacks in LGBTQ progress. Despite the struggle towards equality in the state, there are organizations (and people behind them), making grand strides towards a safe and un-closeted America.
GLSEN is one of those organizations. GLSEN, which stands for Gay, Lesbian and Straight Education Network, is an organization that has been aiding LGBTQ students for over twenty-five years. They have chapters all over the U.S. that strive to improve the education system so that bullying and discrimination in schools will come to an end.
Liz Hamor, co-founder of the Greater Wichita Chapter of GLSEN, has dedicated two and a half years to the students and teachers in her area.
"We support the K-12 schools and support students through GSAs, which we estimated to be a couple hundred students," said Hamor. "The schools have been very supportive and people are excited."
The chapter is host to numerous events, such as No Name Calling Week each January and the National Day of Silence, which will be hosted April 21. The National Day of Silence is a day when students are encouraged to participate in taking a vow of silence which is meant to raise awareness about anti-LGBTQ language, discrimination and the impact it has on students.
People of all ages are encouraged to be a part of GLSEN's work. Wichita's chapter has a number of students and adults who have dedicated their time and efforts to the organization's mission.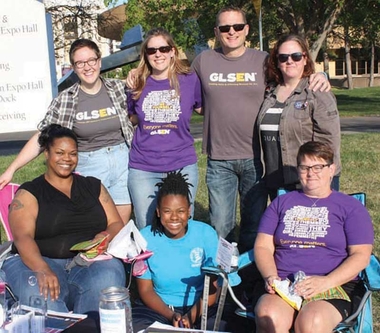 Hamor stated, "In the past we had student board members, but they graduated in May. Now we are hoping for new student leaders who can be committed to volunteering with the organization. Our volunteers are all ages, orientations, religions, races and genders."
Policy regarding trans students will be at the forefront of GLSEN's efforts in 2017. They are also looking to partner with Equality Kansas and PFLAG Wichita as they move forward in the year. Equality Kansas will be participating with them as they educate schools about policy changes.
"We have a very large model about how to make schools safe and inclusive for trans students," Hamor continued. "We try to help support the students and the teachers when they have questions about name changes and bathrooms."
When asked what she was most proud of with Wichita's Chapter of GLSEN, Hamor responded, "That's so hard to answer, because I'm proud of so many things. I'm proud of our volunteers and their commitment that they have with the students. We are two and a half years old and we can look back and see how much we have grown."
The students' involvement with the organization is crucial to its success. Their opinion and perspective is what makes GLSEN what it is – an organization to help students feel included, protected and educated.
Hamor concluded, "We want students' voices and opinions to be front and center with what we do."
If you would like to get involved and stay up to date on the events of the Greater Wichita Chapter of GLSEN, their website is www.glsen.org/Wichita.
Copyright 2017 The Gayly – February 8, 2017 @ 11:30 a.m.