by Philip Hall
Cocktail Columnist
I have this vivid Halloween memory from grade school. Our assistant teacher took us blindfolded one by one to the back room and forced us to stick our hands in bowls of foods that felt slimy and terrifying.
Peeled grapes were meant to be eyeballs; pipe cleaners - spider legs; a peeled tomato - a baby's heart; and steamed cauliflower - human brains. We touched, squealed and guessed if dried apricots were actually the ears of misbehaved children and, with a renewed appreciation for our sense of touch, were sent back to our seats for wholesome treats: a bag of candy corns and another chapter of Where the Red Fern Grows.
I'll be honest, I never liked the what's-in-the-bowl game. It's a waste of food. And I happen to know kids' toes don't feel like baby carrots and tapeworms feel nothing like overcooked spaghetti. But now, nearly 30 years later, I'm hosting a Halloween party and want to bring some nostalgic epicurean creepiness to the mix. What better way than spooking my guests with a sip of a signature Halloween cocktail.
For the grotesque garnish, I created an eyeball for ease for fitting into most stemware, or en masse, can be used for punch. The challenge was making it visually gruesome and tasty.
I'd walked through Asian food aisles at the grocery and noticed cans of whole lychee fruits in syrup, which have a sweet floral bouquet that's easy to blend with. They're peeled and pitted making them a cinch to use.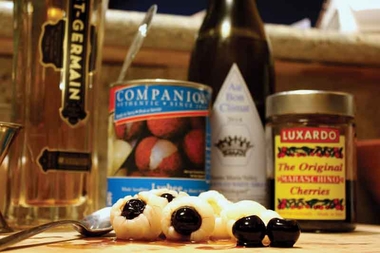 However, I needed something black for the pupil to push inside the hollow lychees and BAM! Luxardo maraschino cherries, an item every home bar should have. Eyeballs, check.
Now for the main event - the cocktail. On a recent hot and humid summer trip to Vienna, Austria, my husband and I fell in love with two thirst-quenching cocktails: Aperol spritzes and Hugos.
The Hugo is a light and refreshing white wine (or prosecco) based cocktail traditionally served with gently muddled mint, elderflower syrup, a splash of club soda and maybe a slice of lime for garnish. It's clean, crisp and perfect for Sunday brunch or a picnic in the park.
We're changing it up slightly for our Goblin Eye Cocktail. Instead of mint, we're adding lychee syrup, which compliments the St. Germain elderflower liqueur nicely.
You can serve these in individual wine glasses, martini glasses or champagne flutes. You can also recreate that Kate Capshaw scene from Indiana Jones and the Temple of Doom, where she stirs the human head soup and all the eyeballs bubble to the surface, by making it in large batches served with ice cubes on the side so it's not diluted over time.
Goblin Eye Cocktail Ingredients
• 1-part lychee syrup
• 2 parts St. Germain elderflower liqueur
• 4 parts white wine (or prosecco)
• Club soda to taste (don't really need if using prosecco)
• Ice cubes
• Lychee fruits (peeled and pitted)
• Luxardo maraschino cherries
Stuff one Luxardo cherry into each lychee fruit and set aside.
Place a few ice cubes in the bottom of each glass. Pour in the liquid ingredients and stir gently before garnishing with a lychee goblin eye.
The best part is the bite of the lychee and maraschino cherry. Cheers!
Copyright The Gayly – October 26, 2017 @ 11:45 a.m. CDT.