Gorin wins Humanitarian Award
This May at the Oklahoma Democratic Party (ODP) Carl Albert Dinner, Victor Gorin of Oklahoma City was awarded the Bob Lemon Humanitarian Award. It was presented to Gorin by two of Lemon's children, Robyn and Chrys. It was the first-ever award of its kind given.
Bob Lemon dedicated his life and career as a community activist promoting equality and confronting bigotry and discrimination in all forms, particularly sexual orientation.
He died October 22 of last year.
Lemon believed that all individuals deserved equal rights and legal protection as a basic human right. He is also Publisher Emeritus of The Gayly.
The Bob Lemon Humanitarian Award honors individuals who have demonstrated outstanding contributions to our community while addressing social justice and human rights.
Honorees will have contributed significantly to improving the quality of life for Oklahomans, demonstrating community leadership and a commitment to humanity and selflessness without regard to personal gain or profit.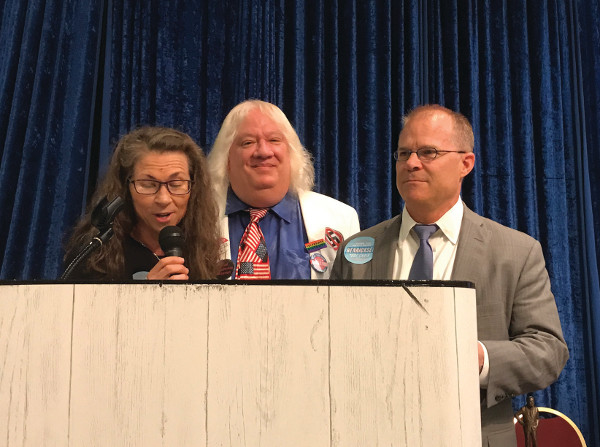 Gorin, "volunteer extraordinaire", serves on the ODP State Central Committee as an Affirmative Action member and is a dedicated weekly volunteer at the State Party. He assists with customer service, phone banking and a variety of office work requested by staff.
He is also an Oklahoma activist and a member of Oklahoma City Democratic Socialists. He serves as the 2017 Secretary for Amnesty Oklahoma City. Gorin has been active in grassroots efforts addressing criminal justice reform, marriage equality, LGBTQ rights and human rights for decades.
Information adapted from the Oklahoma Democratic Party event booklet.
___
Copyright The Gayly - 7/2/2017 @ 9:09 a.m. CST