A herd of lovable, colorful and whimsical cows at Tulsa's OkEq this July
The works of Sandi Willhite in an exhibit titled Tulsa Cowgirls will be the July showcase and exhibit of art for Oklahomans for Equality (OkEq). The monthly event is held at the Dennis R. Neill Equality Center and begins with a reception on Thursday, July 6 from 6-9 p.m. Willhite's art will be on display throughout the month.
Willhite has been drawing and painting since she was a small child. She reflects, "My mother said I would bring home grade school report cards which said, 'does not stay in the lines'; which should have told her I would become an artist."
The artist took a few detours along the way (raising kids and making a living), but art has always been her love. She dabbles in most mediums, but always comes back to her favorite - acrylics. Her course of style has also gone from painting representation and abstracts to whimsical and colorful animals – her current favorite.
Willhite has expanded her training through numerous classes and has shown at many venues, including Philbrook, Utica Square, TAC, Living Arts and TCC; she has also had several solo shows showing 20-30 pieces. She is a member of several professional organizations and was the cartoonist at Northeastern University.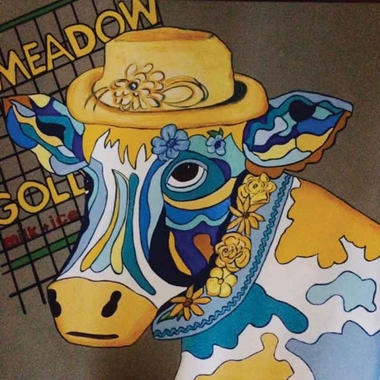 She speaks of her art as a living thing. "A herd of lovable, colorful and whimsical cows will fill the Equality Center for an old-fashioned rodeo. These cow paintings represent my Oklahoma roots and my love for both the outdoors and color. As a tribute to my family, each cow is named after either one of my grandmothers or one of my many aunts (they would be tickled and delighted to be memorialized in this manner).
"The larger ones showcase the cow with a scene from the Tulsa area. Some are from the Tulsa State Fair, some from downtown Tulsa and some are from Route 66. They all have quite the 'personality' and are meant to bring a smile to your face. I'm so excited to be invited by the Equality Center for a solo show of my family of cows. If you adopt one for your home, my goal is to make you smile every time you see it. So, saddle up and giddy on down to the Equality Center to get your bid in for one of your own."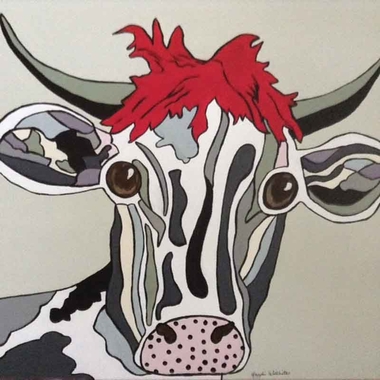 The show begins on Thursday, July 6 from 6-9 p.m. at the Dennis R. Neill Equality Center, 621 E. 4th Street in downtown Tulsa. There will be a door prize drawn of the artist's work. The show continues throughout the month.
Oklahomans for Equality (OkEq) seeks equal rights for Lesbian, Gay, Bisexual and Transgender (LGBT+) individuals and families through advocacy, education, programs, alliances and the operation of the Dennis R. Neill Equality Center. www.okeq.org.
Copyright 2017 The Gayly – June 30, 2017 @ 12:50 p.m.