John Burroughs students rally around gay classmate targeted by hate group
ST. LOUIS, MO. (KMOV) -- Students at John Burroughs School responded to a planned protest by members of the Westboro Baptist Church Monday morning.
The controversial group protested at the Ladue school between 7:45 and 8:15 a.m. Their protest comes after one of the school's star football players, Jake Bain, came out as gay last year.
Students at the school held a counter-protest to show support for their classmate. The students gathered at 7:30 a.m. in Haertter Hall. The students then took a "unity walk" to the football and field hockey fields before heading to the Memorial Gym for a celebration.
The school said Monday will be a late day, with assembly beginning at 8:45 a.m., so students who want to avoid the picket can come to school after members of the Westboro Baptist Church have left.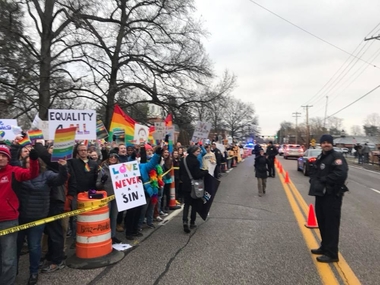 The Ladue Police Department was present during the picket and counter-protest to facilitate traffic and ensure the situation is under control.
Updates can be found via social media by following the hashtag #StandWithJake.
The-CNN-Wire™ & © 2018 Cable News Network, Inc., a Time Warner Company. All rights reserved.
The Gayly. March 12, 2018. 12:55 p.m. CST.