KC Lyric Opera's Figaro is a rousing and poignant comedy
A scene from "The Marriage of Figaro." Photo by Cory Weaver, San Francisco Opera.
by Rob Howard
Associate Editor
The Lyric Opera of Kansas City, together with three other opera companies, is rolling out a new production of Mozart's The Marriage of Figaro, says Brad Trexell, the Artistic Administrator of the Lyric. Many people think that Figarois the most perfect opera, because, Trexell says, "There is humanity in it, people's motivations are very clear, but there is plenty of humor in it too." Besides, unlike many operas, "Nobody dies in this opera," he quips.
Picking up where Rossini's The Barber of Seville left off, it's now several years later and the bloom is off the rose. Count Almaviva has developed a wandering eye and has set his sights on Figaro's bride-to-be, Susannah, neglecting his own wife.
"The Countess knows what's going on," says Trexell. And that's the starting point to provide drama, comedy and poignancy, he adds.
What follows is a rousing and poignant comedy of misplaced identities, misbegotten plans and general misbehaving. All ends well as love is restored, families are reunited and Figaro finally gets his bride.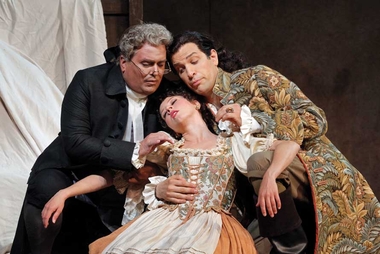 The production is being done together with the Opera Company of Philadelphia, San Diego Opera and the Palm Beach Opera. Trexell says, "It's the first time we have been the lead co-producer, so the sets and costumes are being done in Kansas City. People who have seen them say that they are absolutely spectacular."
There is a hint of modern day issues in the opera as well. Director Stephen Lawless "is focusing on the class struggle between the ruling class and the servants," said Trexell. The new design for Figaro is by British designer Leslie Travers, who did the designs for both the sets and the costumes.
Trexell is excited about the production because, he says, "There are very few good Figaro productions." Because of the joint production, the new opera is very traditional.
Principal cast for Figaro includes Baritone Edward Parks as the Count, Soprano Katie Van Kooten as the Countess, Adam Lau (Bass) as Figaro, and Soprano Maureen McKay as Susanna.
Performances are November 5, 9, 11 and 13 at Kauffman Center for the Performing Arts in Kansas City, MO. Tickets are available online at www.KCOpera.org, or by phone at (816) 471-7344. Sung in Italian with English subtitles.
Copyright 2016 The Gayly – October 28, 2016 @ 1:10 p.m.