Kesha helps gay couple get engaged on stage at Walt Disney World
by Sara Ritsch
Staff Writer
Kesha (Ke$ha) brought the magic to Walt Disney World this season, helping two of her fans get engaged on stage during the unofficial "Gay Days" celebration. This storybook moment took place between Joseph "Joey" Negrelli and his boyfriend, Naveed, at Disney's Hollywood Studios in front of thousands of people. And he said yes.
In between songs, she called Negrelli and Naveed to the stage for a "special surprise." She blindfolded them both, then undid Negrelli's blindfold. He prepared the ring, got down on one knee, and she removed his boyfriend's blindfold.
It was a complete surprise.
"Babe, I never knew I could love anyone in the world as much as you. Since the day I met you, my life has just become so much better. So, Naveed Abrah, will you marry me?"
"Yes. A hundred times, yes."
A true happy ending.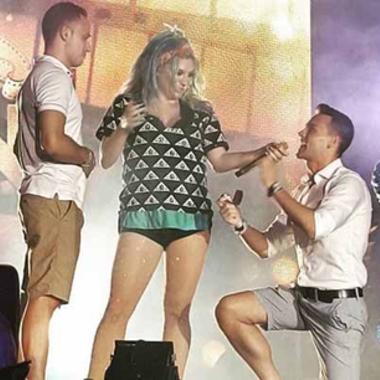 "I decided to message her on Instagram and never thinking in a million years she'd ever get back to me, and then she did!" Negrelli told Billboard. "I had been wanting to propose for a while, just was not sure how to do it."
According to the Huffington Post, Kesha publicly posted on her Instagram account that she was "overcome and overwhelmed with emotion on stage last night." She continued colloquially, "I'm honored that [Negrelli] and [Naveed] shared such a monumental moment with me, and let me help orchestrate their surprise engagement. Love is the magic in life, and really there is nothing more important. He said yes. He actually said 'a million times, yes.' Then my heart melted and I cried. Congratulations."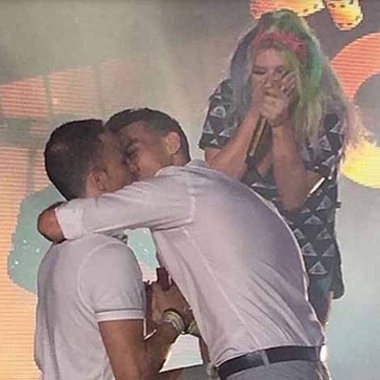 She said on a following post, "Please don't write any hateful or homophobic comments on this picture...or my page in general...if you don't support equal rights then we have nothing in common. Only love here please!"
Kesha is known for her LGBTQ friendly attitude. She officiated a same-sex wedding in 2015 between makeup artist Vittorio Mascecchia and his now husband Felipe Noquiera. She also officiated a wedding between Monique Morrison and Gretchen Helt, a year before same-sex marriage was legalized in the state of California.
And they all lived happily ever after, thanks in part to her orchestration.
Watch the video above or click here.
Copyright 2016 The Gayly – 6/8/2016 @ 4:28 p.m. CDT