LGBT+ moments at the Emmys
There were some LGBT+ standout moments at last night's Emmy Award. The awards were well received by the audience and celebrated racial diversity as well.
"Lena Waithe made history as the first African-American woman to win for comedy writing," said NBC News. "Waithe won for co-writing the "Thanksgiving" episode of Master of None with series co-creator and star, Aziz Ansari. Waithe has also had a recurring role on the Netflix comedy. The episode was based on her experience of coming out as a lesbian."
The episode explores what it's like to come out in a black family. In addition to writing the episode, Waithe is the star as Denise. The episode covers over 25 years of Denise's life culminating in a Thanksgiving meal at a diner, when Denise comes out to her mother.
"Waithe called out the importance of diversity in entertainment and the culture at large in accepting the award. She was clearly overcome with emotion," said the NBC report.
"'The things that make us different — those are our superpowers,' she said.
"Waithe made special mention of her 'LGBTQIA family' and urged viewers who feel outside of the mainstream to don a superhero cape every day 'and go out there and conquer the world. It would not be as beautiful as it is if we weren't in it.'"
Black Mirror's "San Junipero" episode won two awards. The episode is about a lesbian love affair between Kelly and Yorkie.
While Black Mirror is not known for happy endings the episode has one. San Junipero "is a digital cloud-based heaven where people can live on after they die, or try out once a week before deciding they want to spend eternity there," according to Pride.com. This is the case with Kelly, who is elderly and dying of cancer, and Yorkie, who has been quadriplegic since an accident in her 20s."
The episode involves time-travel, which allows Kelly and Yorkie to drive "around in a convertible with Yorkie and hanging out on the beach, forever in their 20s and forever in love. And while yes, the lesbian and bisexual characters in this episode do technically end up dead, they also end up happy and 'alive' forever in a man-made heaven."
Black Mirror's awards were for Outstanding Made-for-TV movie and Outstanding Writing for a Limited Series, Movie, or Dramatic Special. Gugu Mbatha-Raw as Kelly and Mackenzie Davis as Yorkie share star billing in the episode. Charlie Brooker wrote "San Junipero".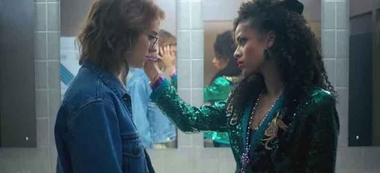 Both Black Mirror and Master of None are on Netflix.
In addition to the awards, an appearance by openly lesbian comedienne Lily Tomlin, along with 9 to 5 co-stars Dolly Parton and Jane Fonda, received a standing ovation and cheers when they appeared as presenters at the Emmy show.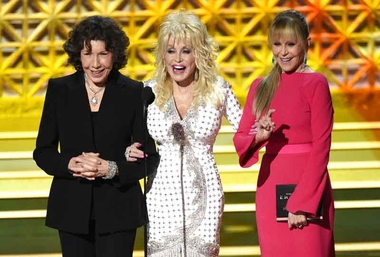 "The cheers continued when Fonda declared that in 1980 the women refused 'to be controlled by a sexist, egotistical, lying hypocritical bigot.'
"Tomlin quickly added, 'In 2017 we still refuse to be controlled by a sexist, egotistical, lying hypocritical bigot'," the Associated Press reported.
Copyright The Gayly – September 18, 2017 @ 10 a.m. CDT.