The Tulsa premiere of Andrew Lloyd Webber's Phantom sequel
It's the spellbinding sequel to The Phantom Of The Opera, Andrew Lloyd Webber's Love Never Dies will make its Tulsa premiere at the Tulsa Performing Arts Center for a limited eight-performance engagement beginning October 30.
The new touring production will reflect an extensive re-working of the material by an Australian creative team for the original Australian premiere in 2011. Described by Chris Boyd in The Australian as "The best thing Lloyd Webber has written in the quarter century since The Phantom of the Opera."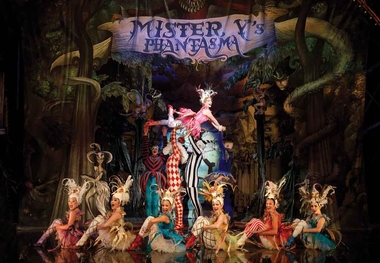 The year is 1907. It is ten years after the Phantom's disappearance from the Paris Opera House, and The Phantom has escaped to a new life in New York where he lives amongst the screaming joy rides and freak shows of Coney Island. In this new, electrically charged world, he has finally found a place for his music to soar, but he has never stopped yearning for his one true love and musical protégée, Christine Daaé.
Now one of the world's finest sopranos, Christine accepts an invitation to travel from Paris to New York to perform at a renowned opera house. Christine's marriage to Raoul is suffering at the hands of his drinking and gambling, and they desperately need the financial rewards that America can give them.
In a final bid to win back Christine's love, The Phantom lures her, Raoul, and their young son Gustave, from Manhattan to the glittering and glorious world of Coney Island - not knowing what is in store for them.
Directed by Simon Phillips (Priscilla Queen of the Desert The Musical) with new set and costume designs by Gabriela Tylesova, choreography by 2011 Astaire Awards winner Graeme Murphy, lighting design by Nick Schlieper and sound design by Mick Potter, the show is one of the few instances of a major West End musical being given a complete makeover for subsequent productions.
Lloyd Webber said he knew about five minutes into seeing its first run-through that he and the new production team had achieved something special. "I have the great joy of being able to say that I think this production is probably the finest one I could ever, ever hope for."
Since its premiere in 2010, Love Never Dies has enjoyed productions worldwide in London, Australia, Denmark, Japan and Germany, as well as multiple recordings including a concept album and a London cast recording. A DVD release of the Australian production has delighted fans globally, and now the North American tour brings the musical to the U.S. for the first time.
Love Never Dies comes to the Tulsa Performing Arts Center for eight performances October 30 – November 4. Performances will be Tuesday, Wednesday and Thursday at 7:30 p.m., Friday at 8 p.m., Saturday at 2 p.m. and 8 p.m., and Sunday at 1 p.m. and 6:30 p.m.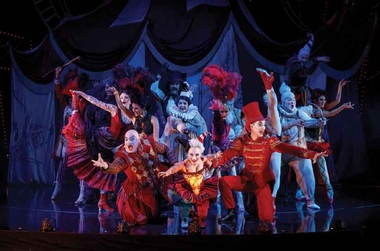 Tickets are on sale now and may be purchased by calling (918) 596-7111 or (800) 364-7111, in person at the Tulsa PAC Box Office, or online at MyTicketOffice.com. Groups of 15 or more may be placed by calling (918) 796-0220.
Love Never Dies is part of the Celebrity Attractions' 35th Anniversary 2018-2019 Broadway Season which also includes Broadway's funniest and longest-running play The Play That Goes Wrong, an irresistible slice of musical theatre heaven with Waitress, the joyous classic to 'raise a cup to' with Fiddler On The Roof, and the season concludes with Hamilton, making its Tulsa debut.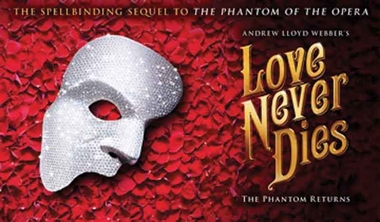 Ticket buyers are reminded that for Celebrity Attractions' productions, the Tulsa PAC Ticket Office and Celebrity Attractions are the only official retail ticket outlets and the only way to guarantee that you are paying face value for valid tickets.
For more information, find Celebrity Attractions on social media @BwayTULSA, or visit www.CelebrityAttractions.com or www.loveneverdies.com.
Celebrity Attractions is celebrating 35 years of bringing Broadway and more to Tulsa. The company has become a nationally recognized leader in the Broadway industry by presenting six Broadway Seasons in a four-state region. Celebrity Attractions adds an average annual impact on the local economy of more than $40 million.
Copyright The Gayly – October 19, 2018 @ 10:30 a.m. CDT.