"Mamma Mia! Here We Go Again"
ABBA fans rejoice, the second Mamma Mia film comes out Friday, July 20.
Lily James, who plays the younger version of Meryl Streep's character Donna in the movie, said filming started on Mamma Mia 2 in August and wrapped in December 2017.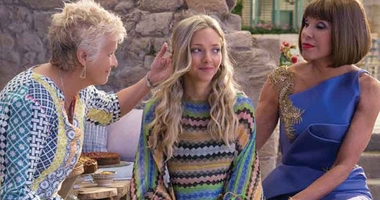 Last October, singer Cher took to Twitter to reveal she's joining the cast as Donna's mother, writing, "WELL…IM IN MOMMA MIA2."
ABBA member Benny Andersson confirmed some of the songs making an appearance in Mamma Mia 2, telling BBC Radio 2 in September that Angel Eyes, I Wonder and When I Kissed the Teacher will be featured in the film's follow-up.
The final trailer was released on the heels of ABBA announcing they reunited to record their first new songs together in 35 years.
According to the Guardian, over two years after the project was first announced, the result of the technology, and I Still Have Faith in You, will be revealed as part of a two-hour television special produced by NBC and the BBC that will air this December.
Dominic Cooper, who plays Sky, told Digital Spy he's glad producers waited so long to make a sequel, commenting, "They've waited for a script to come along that makes sense and is fun and is gonna be as exciting for fans of the original, and that's really important."
The film is due for release within days of the 10th anniversary of the original's release by Universal Pictures.
Alongside Lily James, new members of the cast include Jeremy Irvine, who'll play a young Sam, Alexa Davies, who'll play a young Rosie, Josh Dylan, who'll play a young Bill, and Hugh Skinner, who'll play a young Harry. Jessica Keenan Wynn will play young Tanya.
Naoko Mori will be joining as Yumiko, and Togo Igawa will join as Tateyama.
Cher plays Sophie's flamboyant grandmother, who arrives uninvited on the Greek island where the films are set to celebrate the impending birth of her great-grandchild.
"I have decided to commit to being a grandmother," Cher's character Ruby says in the trailer. But when she's reminded that she will soon be a great-grandmother, she quips that she's "leaving that out of the bio."
Original cast members Meryl Streep, Amanda Seyfried, Julie Walters, Colin Firth, Pierce Brosnan, Stellan Skarsgård, Christine Baranski and Dominic Cooper, are all returning to the cast.
Mamma Mia! Here We Go Again "goes back and forth in time to show how relationships forged in the past resonate in the present", and will act as a half-prequel, half-sequel to the original, according to IMDB.
The film then flashes between Sophie's current day pregnancy, and Donna's pregnancy many years prior, following how Donna fell pregnant in the first place and coped with the issues that followed.
Mamma Mia! Here We Go Again is produced by Judy Craymer and Gary Goetzman, producers of the original film. Craymer is also the creator and producer of the worldwide stage musical.
Copyright The Gayly – July 10, 2018 @ 1:40 p.m. CDT.