Mayor of South Bend marrying his boyfriend
Peter Buttigieg, the mayor of South Bend, Indiana, announced Thursday that he is marrying his boyfriend, Chasten Glezman. Buttigieg is a rising star in Democratic political circles. He is one of the youngest mayors in the country and ran for DNC chairman in 2017, although he dropped out of the race before voting started.
The mayor gained attention in 2015 when he announced he was gay in a newspaper column, five months before he won election to a second term with 80 percent of the vote.
Buttigieg announced their engagement on his Facebook page, saying, "He said yes!"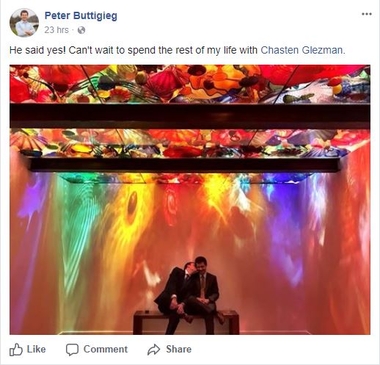 A Rhodes Scholar, Buttigieg studied philosophy, politics, and economics at Oxford and holds a bachelor's degree in history and literature from Harvard. Buttigieg was born in South Bend and attended St. Joseph's High School there.
An officer in U.S. Navy Reserve, Buttigieg took a leave of absence to serve in Afghanistan in 2014, earning the Joint Service Commendation Medal for his counterterrorism work. Under his leadership, South Bend has addressed its toughest challenges and is growing at the fastest rate in years, according to his website.
When running for DNC chair, he said, "We need new leadership to deliver a fresh start for our party." His campaign website said, "He knows that the solutions we need to rebuild our party will be found in our states and in local communities across America. It's time to move forward and begin building our future together."
"I am a Democrat because I believe in defending freedom, fairness, families and the future," he said when running.
Buttigieg says he's looking forward to spending the rest of his life with Glezman, who is a middle school teacher.
Copyright The Gayly – December 29, 2017 @ 2:50 p.m.