MLB includes gender neutral pronoun in joking excuse note
MLB has included a gender neutral pronoun in joking excuse note following game 5 of the World Series.
With Sunday's game going well past midnight on the East Coast, Major League Baseball has provided a letter you can fill in and use as an excused absence from school/work tomorrow. 
Though the note will probably get you a stern eyeroll from your teacher/boss, notice they included "they" along with "he/she" in the letter.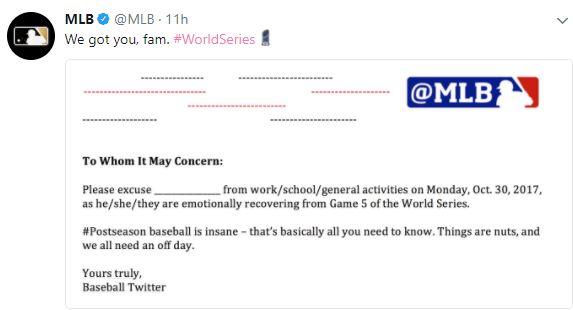 More stories on MLB: 
All 30 MLB teams are supporting #SpiritDay
Billy Bean teaching MLB teams about inclusion in clubhouse
MLB hires for inclusion posts: Bean promoted, Pride added
"We encourage supportive and accepting environments among our young fans, in the workplace, in our clubhouses, on the field and in the stands," said Billy Bean, vice-president, Major League Baseball. 
This nod of inclusion did not go unnoticed by the LGBT+ community. 
Copyright The Gayly – October 30 2017 @ 11:28 a.m. CST.