Bad enough to have this happen, "It's even worse in places where we play"
by Rob Howard
Associate Editor
"I didn't know anything was happening until about 40 minutes after the incident. I got a text from a friend ask me if I was safe," said Russ White, publisher of Las Vegas' QLife Media. White lives two blocks away from the site of the worst mass shooting in U.S. History at the Route 91 Harvest Festival.
At least 58 people have been confirmed dead and over 500 others were injured.
"I got online to get more information. My Facebook feed began to fill up with messages about the concert," White continued. The initial news was coming from all directions. "All of a sudden there were a lot of calls coming in. We got false reports of gunshots at New York New York, gun threats at Luxor, shots fired at Tropicana. It was difficult to determine if it was a multiple shooter event."
Authorities have now concluded that the shooter, 64-year-old Stephen Craig Paddock, acted alone, firing from the 32nd floor of the Mandalay Bay Resort and Casino. After the attack, the shooter apparently killed himself.
"Without providing any evidence to support the claim, the Islamic State group on Monday said the gunman in the mass shooting in Las Vegas was 'a soldier' from its ranks who had converted to Islam months ago," according to an Associated Press report.
The FBI says Paddock "had no connection to an international terrorist group," said the AP. Authorities have yet to identify a motive for the shooting.
White said he is staying calm. He comes from a family of first responders trained to stay calm in difficult situations. "It's my family's training to stay calm. I haven't been downstairs yet. Everyone that I know has checked in okay. I'm waiting to hear from one person. I do have friends that were working at the event.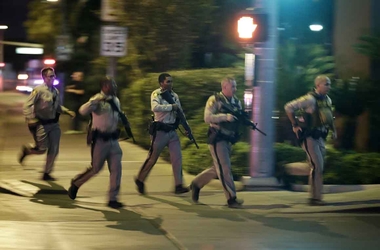 "I've stayed up in my little high castle here. I did go up to our rooftop to see what could be seen. My vantage point is pretty clear. I could see the street closures on the strip, the sidewalks were empty. There were isolated cars that were let through."
He remarked that the LGBT+ community nationwide can understand the feelings of the people of Las Vegas, with this mass shooting coming little more than a year after the Pulse nightclub shooting in Orlando, Florida, last year. The Pulse attack was the worst mass shooting in U.S. history until last night.
White praised the actions of the police and first responders. He said, "Because of the number of people that Las Vegas sees every year - we have 44 million visitors a year - our law enforcement and first responders are well trained for situations such as this.
"It's still an active incident for them. It's 9:30 in the morning. Luxor and Mandalay will not allow people in. They will let people out. There are thousands that have been evacuated to the UNLV Thomas & Mack Center."
It's bad enough learning of these events in our nation and in the city where you live. "It's even worse in places where we play," White concluded.
Copyright The Gayly – October 2, 2017 @ 12:20 p.m. CDT.