"The Voice" is filled with LGBT+ diversity
by Rob Howard
Associate Editor
"When I was eight years old, I sang Precious Lord, Take My Hand in church," said Chris Weaver, now a worship leader, drag queen and one of the two openly gay contestants on NBC's The Voice. "I got a lot of good feedback; started singing in the choir," he told The Gayly.
Former NFL football player Esera Tualolo came out after he retired from the league. "I put singing on the back burner because of football. I thought it was lost," he reflected.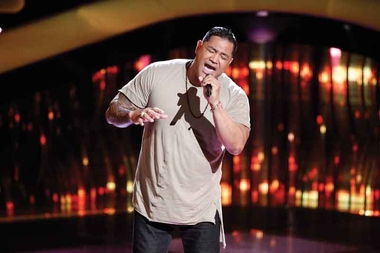 He sees being a Voice contestant as, "Definitely another beautiful chapter in my life. It's an opportunity for the world to hear my voice. It's awesome."
Both think it is great to have another gay contestant on the popular show. "Chris has an amazing voice. It's cool to have another brother on there, it's awesome," Tualolo said in a Gayly interview.
Weaver commented on the competition: "It's great. We are two different folks. It lets us open the door for so many people.
"Some may want to be a drag queen, I can help them too. You have two different gay men from two different backgrounds. The reach is going to be unbelievable."
Weaver's 'Blind Audition' featured Otis Redding's Try A Little Tenderness. Celebrity musician coaches Adam Levine and Jennifer Hudson turned their chairs around 13 seconds into his performance.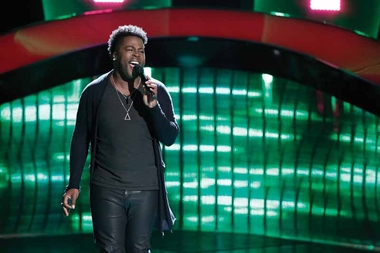 In blind auditions on The Voice, the celebrity coaches/judges sit with their backs to contestants so that the only input they have in selecting a contestant is their voice, range and talent.
When they want to coach a contestant and have them on their team, they push a button that turns their chair around.
For Weaver, all four judges turned their chairs around.
Two of the coaches, Jennifer Hudson and Blake Shelton, turned around for Tualolo, although all four gave him rave reviews at the end of his rendition of Andra Day's Rise Up.
Contestants choose one of the judges who turn around as their coach and to be on that celebrity's team.
Weaver, who chose Team Jennifer, explained his choice: "I feel like Jennifer and I connected. I grew up in church. She did the same. [She's] a person that has branched out but it was important that she had that experience. She has literally walked down the road that I've walked on. It felt right."
Tualolo chose Team Blake. He said, "I think Blake was a better choice for me. He's a football fan. A great track record on the show. His coaching style is not to change the way you sing; he helps you find your voice. We seemed to connect more with Blake."
Since they are on separate teams, it is possible that they may end up competing with each other as the season progresses.
Weaver, 29, performs as Nedra Belle in New York City. "She came about six years ago," he said. Unlike many performers, he sings the songs, rather than lip-syncing.
But there is a difference. "In drag there are a lot of things I can explore. Nedra is very entertaining. There's this liberty, this freedom to be out there. I think Chris is more of a performer. Nedra wants to warm up the crowd."
Tualolo, now 49, spends much of his time as an LGBT+ advocate. "Having the opportunity to have a voice, helping with the marriage amendment, LGBT youth, not just youth but for everyone," he stated.
"Being able to voice my opinion and help. For me it has been a blessing. To be a part of the movement and help the movement." He lives in Minneapolis with his twin children.
You can see Weaver and Tualolo, as well as a talented group of other contestants, on NBC's The Voice, Monday and Tuesday evenings at 7 p.m. CST.
Copyright The Gayly – November 5, 2017 @ 7:15 a.m. CST.