Doug Jones' gay son "thrilled" by father's election
We knew that Alabama Democratic Senator-elect Doug Jones beat homophobic disgraced judge Roy Moore. But it turns out that isn't the whole story. After the election, Carson Jones, the Senator-elect's son, confirmed to LGBT+ websites that he is gay.
Carson is a zookeeper in Colorado. He told Advocate in an interview that he "couldn't be prouder" of his dad.
"I am obviously thrilled with my dad's victory," said Carson. "We have been overwhelmed by the support of so many people that made this happen. Alabama made a really big statement that unity wins out. I couldn't be prouder of him or my home state!"
Related:
Jones says he knew he had a 'path' to victory
Doug Jones pulls out huge win in Alabama
Carson defines himself as a "Southern gentleman, zookeeper, gym junkie, adventurer, and sushi addict" on his Instagram profile.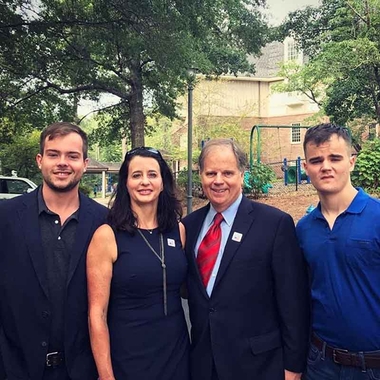 The elder Jones spoke out about his opposition to President Trump's transgender military ban, and has supported same-sex marriage.
If there hasn't been much visibility of his support beforehand, it's because Jones "is skilled at muting his liberal stands on such issues as abortion and gay rights — a necessity in one of the South's most conservative states," the Los Angeles Times noted.
"Carson revealed that he sees his father's win as a glimmer of hope in an otherwise bleak year," reported NewNextNow.com.
"It's little moments like that which tell me that things are getting better. That's what I have to believe. And after the results on Tuesday, I don't just believe it—I know it."
Copyright The Gayly – December 16, 2017 @ 3:35 p.m. CST.