He spoke up for his two moms. Now he's running for the Iowa senate
Remember Zach Wahls? He was the 19-year-old son of two lesbian moms who spoke to the Iowa legislature defending his family. The video of the speech went viral and Zach became an LGBT+ advocate. He authored My Two Moms: Lessons of Love, Strength and What Makes a Family.
An Eagle Scout, Wahls also launched Scouting for Equality that helped to convince the Boy Scouts of America (BSA) to accept gay boys as scouts in 2013. A few years later, the BSA also accepted gay leaders for scouting troops.
For more on LGBT+ activism in scouting, visit:
Trump shows the Boy Scouts how to start a political fire
The Boy Scouts should accept lay leaders
Now 26, Wahls is launching a campaign for the Iowa state Senate as a Democrat from the 37th district.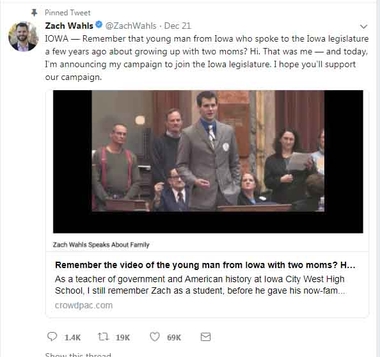 He is going to focus on health care, higher education and workers' right. He introduces himself on his website, saying, "I want to be a voice for you. I'm an advocate. I know what it's like to not feel represented by your government. I fought for my family and I want to fight for yours. I've always spoken truth to power. With health care, higher education, and workers' rights under attack, I want to be a voice for you in the Iowa Senate. I'm looking forward to meeting you. Here's some background about me."
He also is a champion for women, and pledges to make that a focus of his service.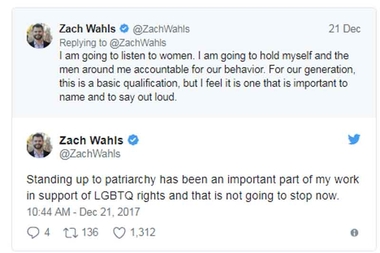 Wahls faces another Democrat in the June 5, 2018 primary. The seat he is running for is open due to the retirement of the incumbent.
"I am excited, I am fired up, I am ready to go, and I am committed to working my heart out for the people of this district," he tweeted. "Let's get this."
Copyright The Gayly – December 26, 2017 @ 10:55 a.m. CST.