State and federal marijuana laws continue to clash
California legalizes marijuana for recreational use Monday, but that won't stop federal agents from seizing it — even in tiny amounts — on busy freeways and backcountry highways.
Marijuana possession still will be prohibited at eight Border Patrol checkpoints in California, a reminder that state and federal laws collide when it comes to pot. The U.S. government classifies marijuana as a controlled substance, like heroin and LSD.
"Prior to Jan. 1, it's going to be the same after Jan. 1, because nothing changed on our end," said Ryan Yamasaki, an assistant chief of the Border Patrol's San Diego sector. "If you're a federal law enforcement agency, you uphold federal laws."
The checkpoints, located up to 100 miles from Mexico, are considered a final line of defense against immigrants who elude agents at the border. They also have been a trap for U.S. citizens carrying drugs, even tiny bags of marijuana.
About 40 percent of pot seizures at Border Patrol checkpoints from fiscal years 2013 to 2016 were an ounce (28 grams) or less from U.S. citizens, according to a Government Accountability Office report last month. California's new law allows anyone 21 and over to carry up to an ounce.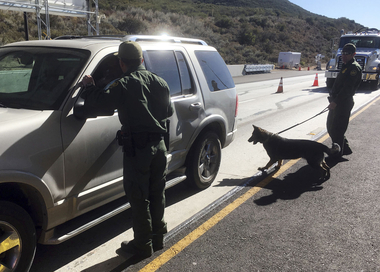 The Border Patrol operates 34 permanent checkpoints along the Mexican border and an additional 103 "tactical" stops, typically cones and signs that appear for brief periods.
Ronald Vitiello, acting deputy commissioner of parent agency Customs and Border Protection, called drug seizures an "ancillary effect" of enforcing immigration laws. Motorists typically are released after being photographed and fingerprinted. They generally aren't charged with a crime because prosecutors consider them low priority.
The clash between state and federal marijuana laws played out on a smaller scale near the Canadian border in Washington after that state legalized marijuana in 2014. California is a far busier route for illegal crossings with many more agents.
State and federal marijuana laws have conflicted since California became the first to legalize marijuana for medical use in 1996. Next week, California will be among seven states and Washington, D.C., with legal recreational pot.
Related: 
Alaskan pot shop represents divide on Marijuana in U.S.
Huff, puff, pass? AG's pot fury not echoed by task force
Colorado: Youth pot use hasn't gone up since legalization
U.S. Attorney General Jeff Sessions, a staunch opponent of legalization, said last month that he was taking a close look at federal enforcement, suggesting a tougher stance than President Barack Obama's administration.
At highway checkpoints, Border Patrol agents look for signs of nervous drivers, like clutching steering wheels and avoiding eye contact and interrupting when passengers are asked to state citizenship. Some panicked drivers make a U-turn when they spot the checkpoint, a dead giveaway.
The government faces pushback over checkpoints. Some residents complain about delays and trespassers trying to circumvent checkpoints — some even dying from heat and exhaustion. Motorists who consider them a privacy invasion steadfastly refuse to answer questions and post their test encounters on YouTube.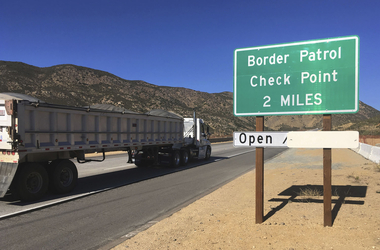 Border Patrol officials insist they are effective. Without them, Vitiello said, smugglers would have open passage to cities like Phoenix and Albuquerque, New Mexico, once past the border.
The U.S. Supreme Court ruled in 1976 that agents can question people at checkpoints even without reason to believe anyone in the vehicle is in the country illegally and don't need a search warrant.
Michael Chernis, an attorney who represents people charged with marijuana crimes, believes checkpoint seizures are a waste of resources but acknowledged the government is empowered.
"The bottom line is, there's absolutely no protection against federal interaction when it comes to adult use," he said.
The Gayly – December 27, 2017 @ 12:30 p.m. CST.