Almost Queen will 'rock you' at Prairie Band Casino
Rock band Queen dropped amazing songs from 1973 to 1991. Album after album, hit after hit, Queen produced what has been called "some of the best" until the untimely death of front-man Freddie Mercury. 
Mercury died from AIDS-related pneumonia in 1991 and is best known as one of the most versatile and engaging performers in the world of rock.
Fans mourned Mercury's death.
Related:
Freddie Mercury's voice explained by science
"King of Queen," Freddie Mercury tribute show at the Boom
Freddie Mercury biopic director Bryan Singer canned
It saddened them they would never again get to see the incredible live shows that Queen gave to their audiences. But that has changed with the formation of "Almost Queen," a tribute band that wows fans with their uncannily accurate renditions of the band's songs, costumes and stagecraft.
Now, fans in The Gayly region can see the Almost Queen blockbuster show at the Prairie Band Casino & Resort in Mayetta, Kansas.
Almost Queen bills itself as "the most authentic Queen live show since the days of Queen themselves." Critics agree.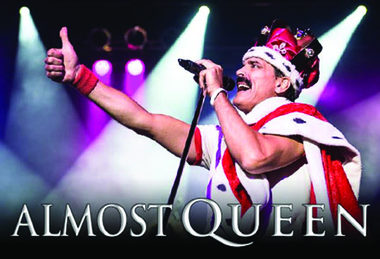 "The band looks and sounds just like Queen. Joe Russo (Freddie Mercury) has identical mannerisms to Freddie Mercury and sounds like him. They mimic each song perfectly, even down to the littlest detail," said a review in TributeTribune.
The cast also includes Steve Leonard (Brian May), John Cappadona (Roger Taylor) and Randy Gregg (John Deacon).
"They started out with a recording of We Will Rock You that morphed into them playing. The performance drew the audience in with a familiar song. They ended with We Will Rock You/We Are The Champions."
The band plays Bohemian Rhapsody, one of Queens's most famous songs. They pay attention to each other and the audience. In one concert, a fan shouted out "play Stone Cold Crazy," and they immediately played it.
"It is not every band that has been so inspired by a legendary band that it has devoted its entire existence to emulating that band," says reviewer Josef Hernandez in AXS.com. "Almost Queen has dedicated itself to becoming Queen, or as close as is humanly possible and has been doing so for a decade to international acclaim. 
"This is not just a Queen cover band. Almost Queen dedicates themselves to making every aspect of the band's performances as close as possible to the group that inspired it even to the appearance of the band members themselves. Each of the band members tailors his look to resemble the member of Queen that he is a match with to give the audience the most authentic Queen experience possible. 
"The band is dedicated to following the same attention to detail in playing its music as well as the showmanship and theatrics of Queen's live performances to be as close to the original as anyone other than Queen itself could be. 
"Almost Queen donates a portion of all proceeds from band merchandise sales to the Mercury Phoenix Trust, named after Queen's front-man Freddie Mercury, to assist in the worldwide fight against AIDS."
Pulling off giving audiences a Queen experience rather than just a collection of the band's songs is "Very, very hard to pull off and very, very gratifying to do it," said Randy Gregg, who portrays bassist John Deacon, in an interview with ClassicBands.com.
The Prairie Band Casino & Resort show is Saturday, February 24, at 8 p.m. Tickets start at $20 and are available online at www.prairieband.com, by calling (888) 727-4946 or by email to pbctickets@pbpgaming.com.
All attendees must be 21 or older and have a Prairie Band Casino & Resort Players card to enter.
The Gayly 1/28/2018 @ 9:04 a.m. CST