Roseanne revival stokes controversy
The sitcom Roseanne frequently stirred debate in the 80's and 90's. Initially, there was a backlash from both the network and sponsors, but the show was extremely popular and weathered the controversy. It became the most-watched television show in the United States from 1989 to 1990.
ABC is bringing Roseanne back for an eight-episode revival in March. Reports say television is seeking to capture the lives of the white working class after the 2016 presidential election of Donald Trump.
Personally, Roseanne Barr has never been particularly silent about her political views. The original show presented blue-collar values. People expressed surprise when she tweeted about her support for President Trump and expressed what some consider anti-liberal views.
Critics have considered Barr to be almost a "gay icon" because of her inclusion of several gay and lesbian characters in the original show. That was a tough sell 25 years ago when the show first aired.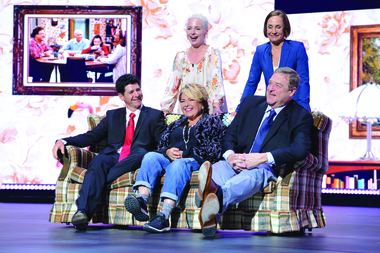 Barr's real-life brother and sister are gay, which inspired her to push for introducing gay characters and issues into the show. "My show seeks to portray various slices of real life, and homosexuals are a reality," said Barr in the 90's.
New episodes include a nine-year-old character, Mark. He is the son of David (Johnny Galecki) and Darlene (Sarah Gilbert). Mark is "gender fluid," and "displays qualities of both male and female, young child traits" and is "sensitive and effeminate."
Also notable is Gilbert's return as Darlene. The actress is openly lesbian. In addition to Gilbert, much of the original Roseanne cast is returning: Roseanne Barr (Roseanne), John Goodman (Dan), Laurie Metcalf (Jackie), Michael Fishman (D.J.) and Lecy Goranson (Becky).
There were series regular Nancy (played by Sandra Bernhard, a lesbian icon in her right), Leon (Martin Mull) and his husband Scott (Fred Willard) and even Roseanne's mom, Bev (Estelle Parsons). Then there were marquee guest stars like Mariel Hemingway and Morgan Fairchild, who both played Nancy's girlfriends.
Late last year, Barr stirred up controversy when she sent out a couple of shocking tweets.
"4 those who wonder-back in the day when I was called a 'liberal' by journalists, I used to answer-'I'm not a Liberal, I'm a radical' & I still am-I voted Trump 2 shake up the status quo & the staid establishment."
And "When Roseanne first went on air in '88, it was boycotted by women on the right who felt that fat working-class opinionated moms were a disgrace 2 America. Now, it's those same women, but they r on the left."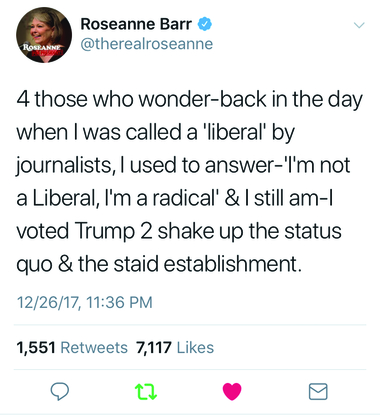 Many ask, "Why should we (LGBTQ+) support a show starring and executive produced by a Trump supporter?"
Roseanne's return has stirred controversy on the right as well. Right-wing and anti-LGBT+ groups One Million Moms (OMM) and the American Family Association (AFA) have both expressed alarm at the inclusion of Mark, the gender fluid grandchild.
OMM called it "child exploitation at its worst." AFA said, "ABC is glorifying gender dysphoria, also known as gender identity disorder and using a child to promote this mental disorder."
So the quandary on each side of the political spectrum is support or boycott what should be a wildly popular show.
The eight-episode run starts with a one hour premiere on ABC March 27 and will air on Tuesdays at 7 p.m. CST.
The Gayly. February 22, 2018. 10:00 a.m. CST.